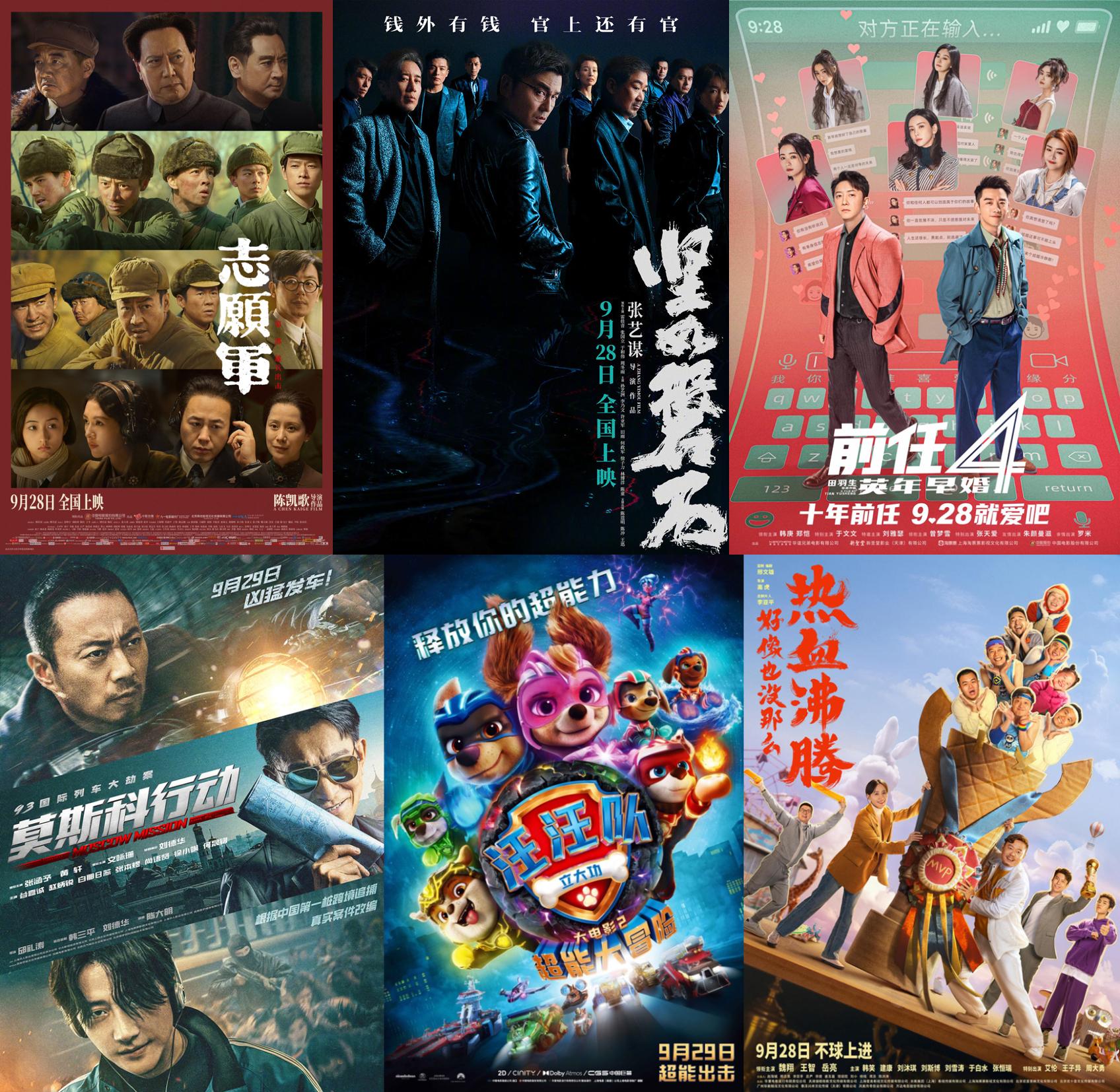 Posters for blockbuster films that are released during the eight-day Mid-Autumn Festival and National Day holiday. [Image provided to China.org.cn]
Propelled by domestic blockbusters during the combined Mid-Autumn Festival/National Day holiday, which is traditionally a lucrative season in terms of movie ticket receipts, China has seen overall box office earnings so far this year — from Jan 1 to Friday — surpass the total earnings of full-year 2021.

A total of 368 feature films were released domestically over the past nine months, with 12 hitting the big screen during the eight-day combined holiday, according to the China Film Distribution and Exhibition Association.
As of 7 pm on Friday, the country's box office revenue so far this year had reached 47.5 billion yuan ($6.5 billion), exceeding the 47.04 billion yuan recorded for full-year 2021 and far more than the 29.95 billion yuan seen in 2022, according to box office tracker Beacon.
Amid the revved-up holiday cinema revenue, the top box office rankings for this year are still dominated by blockbusters released earlier this year — mainly during the Spring Festival holiday and the June-August summer theater-going season.
Currently, the three highest-grossing films so far this year have been the Zhang Yimou-directed historical thriller "Full River Red," sci-fi sequel "The Wandering Earth II" and the cyberscam-themed "No More Bets."
A prolific filmmaker, who was also the first in the world to direct two Olympic Games' opening and closing ceremonies, Zhang has seen his latest cinematic production "Under the Light" soar as the new box office champion during the extended holiday.
In production for around five years, the dark-themed movie, which delves into a thrilling web of corruption exposed by a bus bomb explosion, has raked in 923 million yuan since its release on Sept 28.
Sitting in second place on the holiday box office charts is the comedy romance sequel "The Ex-Files 4: Marriage Plan." As the fourth installment of the popular franchise, which saw the third feature earn a whopping 1.94 billion yuan, actors Han Geng and Zheng Kai play a couple of close friends facing respective problems in their love affairs while entering middle age. It has brought in 699 million yuan so far.
Marked as the latest silver-screen epic to retell the heroic endeavors and sacrifices of the War to Resist US Aggression and Aid Korea (1950-53), director Chen Kaige's "The Volunteers: To the War" has earned 520 million yuan to date and ranked as the third highest-grossing movie over the holiday.
The fourth and fifth highest-grossing films are, respectively, "Moscow Mission," an action-packed crime thriller following Chinese police hunting gangsters who rob a train from Beijing bound for Moscow, and "Lose to Win," a comedy about a basketball coach heading a special team of players with learning disabilities.
The combined holiday, which ran from Sept 29 to Friday, has grossed 2.7 billion yuan in box office takings, marking an 80 percent increase compared with the previous year. However, this figure is lower than the amount generated during the same periods in both 2020 and 2021, which reached 3.97 billion yuan and 4.39 billion yuan, respectively.
Zhi Feina, a professor at the Chinese National Academy of Arts, said that the Mid-Autumn Festival and National Day holidays, which together formed an eight-day break this year, have prompted many Chinese people to embark on long journeys, thereby to some extent reducing the number of cinema visitors.
Zhi said that the weeklong holiday has exemplified the growing diversity of genres, signaling a positive trajectory for the Chinese film industry as it returns to normalcy.
Considering the contribution of the extended holiday to box office receipts and expectations for the rest of the year, Zhi said domestic cinema revenue may ultimately reach 55 billion yuan, backed by highly anticipated movies like "The Goldfinger," a crime thriller co-starring Hong Kong superstars Tony Leung Chiu-wai and Andy Lau.
Gao Jun, a Beijing-based filmmaker, said that the record-shattering summer box office season, which grossed 20.6 billion yuan, still somewhat underperformed when all things were considered.
Since some dual-holiday blockbusters have received mixed reviews online, it has been somewhat difficult to attract film fans back into cinemas without sufficient appeal, Gao said.