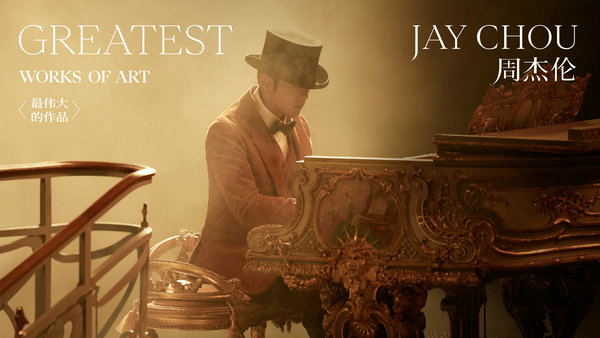 A promotional image for Jay Chou's latest music video, "Greatest Works of Art." [Photo courtesy of JVR Music]
Tickets to pop star Jay Chou's concert, held in Shanghai from Oct 12 to 15, were very difficult to get. Nothing surprising in that except that they were difficult to get not only because of the high demand, but also because ticket scalpers used the ID information of a large number of people and software to grab tickets in bulk and resell them at high prices.
Yet on Oct 12 the scalpers began refunding the tickets en masse because the concert organizers introduced a "strong real-name matching system" for entry to the concert. The real-name matching system requires the ticket purchaser and spectator/audience member to be the same person. It also prevents one ID card-holder from booking more than one ticket, making it impossible for a person to enter a show with a ticket in another person's name.
Since the beginning of this year, many concerts and music festivals have been held across the country, with a rise in demand. And in September, the Ministry of Culture and Tourism and the Ministry of Public Security jointly issued a notice, saying organizers of big concerts and shows should introduce a system that ensures people purchase tickets using their real name.
Ticket scalping is regarded as a cancer in the entertainment industry, ruining the atmosphere in the cultural market and discouraging even interested people from attending a concert or some other type of show.
Even after the strong real-name matching system was introduced, some ticket scalpers thought it would not be foolproof. Also, some organizers hosting individual shows initially promised to adopt the "strong real-name matching system" at the beginning of ticket sales, but then quietly revised the rules to allow "one transfer and one gift", opening the door to ticket scalpers.
But the organizers of the Jay Chou concert in Shanghai fully implemented the "strong real-name matching system", leaving no space for scalpers to exploit the loopholes and make profit. This is a real breakthrough in eradicating scalping.
The key to eradicating the menace of ticket scalping is to coordinate and cooperate, jointly manage, strictly adhere to the rules, and impose severe penalties on rule breakers, so as to not give any chance to the gray business operators.