Among the glittering stars of the science fiction genre, a new luminary emerged. During the Hugo Awards ceremony, the pinnacle of global science fiction accolades held on Saturday evening in Chengdu, Sichuan province, Chinese author Hai Ya claimed the Best Novelette award for his piece, "The Space-Time Painter."
Chinese sci-fi writer Hai Ya receives the Best Novelette award from Liu Cixin, China's predominant sci-fi writer, at the Hugo Awards ceremony held in Chengdu, Sichuan province, Oct. 21, 2023. [Photo courtesy of Chengdu Worldcon]
"From the time I received the notification from the organizing committee about my nomination until now, it all feels surreal," Hai Ya remarked, accepting the award from Liu Cixin, the 2015 Hugo Award winner for "The Three-Body Problem."
Hai, 30, has been an avid sci-fi enthusiast since childhood and began writing science fiction at university. Now, he works in the bustling financial sector of Shenzhen, balancing his passion and his profession. "I have a very regular and busy job in a big city, confronting daily realities. Yet every time I leave the office, I gaze at the stars. In Chengdu, my worldly and ideal worlds merge, and my dream has become a reality."
The author is the third Chinese writer to clinch this esteemed accolade, succeeding Liu Cixin and Hao Jingfang (who won the Best Novelette award in 2016 for "Folding Beijing"). "The Space-Time Painter," presented by the Chinese sci-fi brand Eight Light Minutes Culture, crafts a historical sci-fi narrative revolving around Wang Ximeng, the ingenious artist responsible for the renowned landscape scroll "A Thousand Miles of Rivers and Mountains" from the Northern Song Dynasty (960-1127). The story re-envisions the inception of this iconic painting and the subsequent political intrigue of the royal court. Leveraging the contemporary allure of "restoring relics in the Forbidden City," the plot masterfully intertwines Chinese traditional culture, history, intrigue, and science fiction.
Chinese computer graphics artist Zhao Enzhe speaks as he receives the Best Professional Artist award at the Hugo Awards ceremony held in Chengdu, Sichuan province, Oct. 21, 2023. [Photo courtesy of Chengdu Worldcon]
Hai wasn't the only standout at the Hugo Awards. Renowned computer graphics artist Zhao Enzhe also secured the Best Professional Artist award. With over two decades in the gaming industry, Zhao has nurtured a strong passion for sci-fi-themed creations. His illustrations, which often depict future cityscapes and grand starships, embody a hardcore sci-fi aesthetic. This distinctive, masterful style has won him both the Galaxy Awards and the Chinese Nebula Awards. Zhao has expressed his ambition to elevate sci-fi art imbued with Eastern philosophy to a global audience. He has also created cover art for China's Science Fiction World magazine, a top sci-fi publication worldwide.
"I made a vow years ago that I would dedicate myself to sci-fi arts for China and the world," Zhao said upon accepting his award.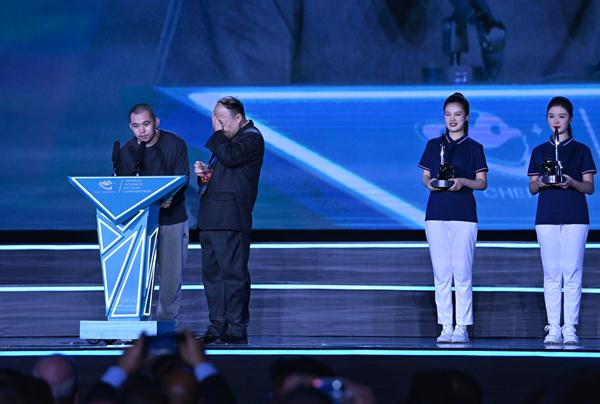 RiverFlow, chief editor and founder of Zero Gravity Newspaper, speaks as he accepts the Best Professional Artist award, while his collaborating partner Ling Shizhen is in tears at the Hugo Awards ceremony held in Chengdu, Sichuan province, Oct. 21, 2023. [Photo courtesy of Chengdu Worldcon]
Another emotional moment arose when RiverFlow, the founder and editor, and his collaborating partner, Ling Shizhen, won the Best Fanzine award for their Zero Gravity Newspaper. Launched in July 2020, the online fanzine was established with the intent to curate folk materials and cater to the Zero Gravity sci-fi fan community. Over time, its readership has broadened to include university sci-fi groups and official sci-fi organizations. The publication primarily offers non-fiction sci-fi content that hasn't appeared in print publications. Its range includes current affairs commentary, historical research, data collation, interviews, novel and film reviews, translations of sci-fi culture, and contributions penned by dedicated sci-fi enthusiasts.
At 20 years old and still in university, RiverFlow revealed he had chronic illnesses that caused him significant pain. Diving into the sci-fi community and contributing to Chinese sci-fi fans became not only his gratitude gesture to his supporters but also a refuge from his pain. His heartfelt revelation elicited both cheers and tears from the audience. Later, a visibly emotional Ling Shizhen dedicated the award to his late father on stage.
"This Hugo Award also belongs to all the contributors to our fanzine. I wish other sci-fi fanzines continued success, and I hope more sci-fi fans will pay attention to and engage in community building. We still have a lot of work to do," RiverFlow said.
A musical performance is staged at the Hugo Awards ceremony held in Chengdu, Sichuan province, Oct. 21, 2023. [Photo courtesy of Chengdu Worldcon]
In this year's Hugo Awards, Chinese finalists featured prominently in numerous categories. In the Best Short Story category, four Chinese works stood out: "On the Razor's Edge" by Jiang Bo, "Resurrection" by Ren Qing, "The White Cliff" by Lu Ban, and "Zhurong on Mars" by Regina Kanyu Wang. Additionally, "Chinese Science Fiction: An Oral History, Volume 1" by Yang Feng was nominated for Best Related Work. Yang, founder and CEO of Chinese sci-fi brand Eight Light Minutes Culture, also received a nomination in the Best Editor, Short Form category. Yao Haijun, a Chinese sci-fi publisher, was nominated for Best Editor, Long Form, alongside fellow Chinese nominees Chen Ruoxi and Yan Huan. Chinese artists Zhang Jian, Kuri Huang, and Sija Hong were all nominated for the Best Professional Artist award.
The Hugo Awards, first presented in 1953 and given annually since 1955, are science fiction's premier accolades. Voted on by the World Science Fiction Convention members, this year saw 1,847 valid nominating ballots for the 2023 awards. For the first time, the awards were both voted on and presented in China, attracting global participation and an unprecedented number of non-English speaking member votes.
Interlaced with musical performances and a poignant "Remember Me" tribute to late sci-fi figures, the award ceremony also presented other notable awards. "Nettle & Bone" by T. Kingfisher won Best Novel, "Where the Drowned Girls Go" by Seanan McGuire took Best Novella, and "Rabbit Test" by Samantha Mills secured Best Short Story. The "Children of Time" series was recognized as Best Series, while "Cyberpunk 2077: Big City Dreams" garnered Best Graphic Story or Comic. Significantly, the Oscar-winning film "Everything Everywhere All at Once," infused with Chinese elements, claimed the Best Dramatic Presentation (Long Form) award, outshining sci-fi heavyweights such as "Avatar: The Way of Water" and "Black Panther: Wakanda Forever."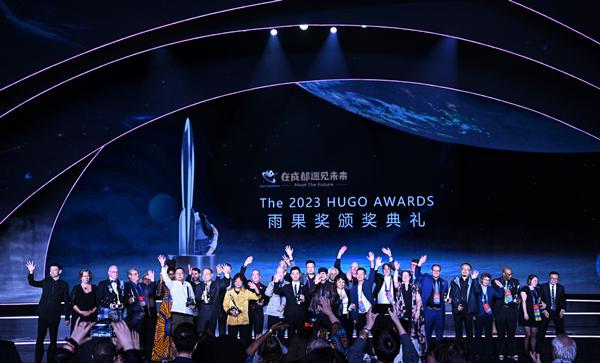 Winners, organizers, and guests pose for a group photo at the end of the Hugo Awards ceremony held in Chengdu, Sichuan province, Oct. 21, 2023. [Photo courtesy of Chengdu Worldcon]
The World Science Fiction Convention, held annually since 1939 (with exceptions from 1942 to 1945 due to World War II), will conclude on Sunday, with the Hugo Awards as the evident climax. This event marks the first time that the world's largest and longest-running sci-fi gathering has been hosted in China.
Hugo Awards winners list: