A new period action drama based on a Dunhuang legend from the Tang dynasty (618-907) is set for release in theaters on Dec. 22. It was announced recently by one of the film's producers.
Cast and crew of "Dunhuang Warriors" pose for a photo at a press conference held during the China Golden Rooster and Hundred Flowers Film Festival in Xiamen, Fujian province, Nov. 4, 2023. [Photo courtesy of Table Film]
"Dunhuang Warriors" is directed by Cao Dun and written by the renowned novelist Ma Boyong. The cast will feature acclaimed actors Zhang Yu, Dou Xiao, Lyu Liang, Zhang Yifan, Lei Jiayin and Zhu Yawen, according to Zhang Miao, general manager of Beijing Splendid Culture & Entertainment Co. Ltd.
"When I saw our magnificent Dunhuang history adapted into the 1988 Japanese movie 'The Silk Road' by Japanese director Junya Satō, it strengthened and deepened my belief that the splendid Chinese culture and the resolute and tenacious Chinese heroes must be presented to the world in a distinctly Chinese manner," Zhang said at a press conference held on Nov. 4 during the China Golden Rooster and Hundred Flowers Film Festival in Xiamen, Fujian province.
"Dunhuang Warriors" marks the second collaboration between director Cao and novelist Ma, following their successful 2019 hit TV series "The Longest Day in Chang'an."
The action-packed film, set during the Tang dynasty in Sha prefecture (later known as Dunhuang), draws inspiration from real historical events. Following the An-Shi rebellion, Sha prefecture was isolated for over 60 years, cut off from the Tang dynasty capital of Chang'an. Under the leadership of governor Zhang Yichao, the locals bravely fought invaders and hardships, eventually returning Sha prefecture to Tang.
At the press conference, several of the film's actors elaborated on their characters' longing for and faith in returning home, expressing their belief that the movie will deliver a grand and emotional experience for audiences.
The city of Dunhuang in Gansu province is now best-known for the Mogao Grottoes, a UNESCO World Heritage Site. Zhang Yichao's story is depicted on a mural in Cave 156, created during the late Tang dynasty.
Dunhuang cultural researcher Zhong Hao is confident that the film will enhance people's understanding of Dunhuang and its culture, and ignite newfound affection for the city. He remarked, "We anticipate the movie will add another dimension to the already thriving Dunhuang tourism."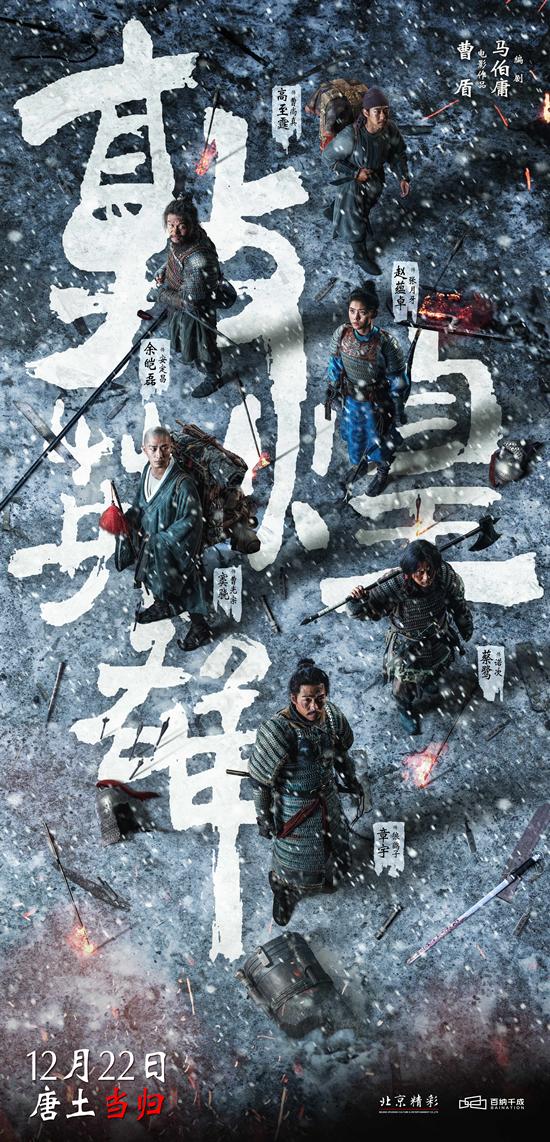 A poster for "Dunhuang Warriors." [Image courtesy of Beijing Splendid Culture & Entertainment]
Producer Zhang Miao has also incorporated this film into his "China's Teen Universe" franchise. The inaugural project in the franchise was Sun Haipeng's critically acclaimed animated feature, "I Am What I Am." Now, "Dunhuang Warriors" represents the first live-action installment within the franchise. Zhang explained that the films produced under this banner aim to narrate compelling Chinese stories, exemplify the youthful and spirited essence of the nation, and resonate with the times.