Megastar Andy Lau takes the helm as both producer and leading man in a new thriller that brings to light the sophisticated methods police use to combat cutting-edge, high-tech drug trafficking networks.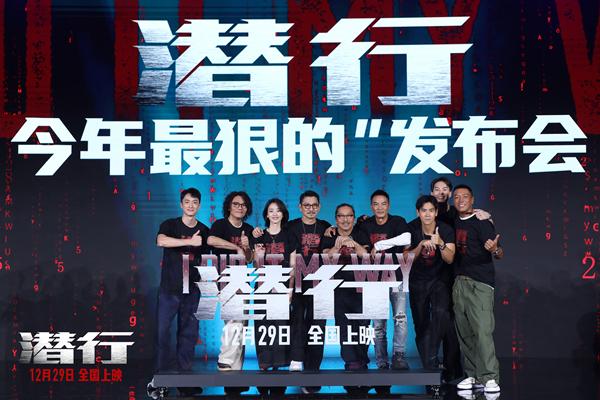 Cast and crew pose for a photo at the "I Did It My Way" press conference during the China Golden Rooster and Hundred Flowers Film Festival in Xiamen, Fujian province, Nov. 4, 2023. [Photo courtesy of Dark Horse]
"I Did It My Way," directed by Jason Kwan, focuses on the latest trends in online drug trafficking, with Lau starring as a cunning and highly intelligent villain disguised as a benign lawyer. This role marks a rare departure for Lau, who typically favors portraying positive characters. Eddie Peng co-stars as a cop leading at the helm of a high-tech team tasked with thwarting this criminal activity.
At a Nov. 4 press conference during this year's China Golden Rooster and Hundred Flowers Film Festival, Lau said the antagonist is "completely unrecognizable on the surface. You only realize how villainous and ruthless he is after watching the movie." Additionally, Lau, as an executive producer, was involved in the script and various other creative aspects of the film from the outset.
"To tackle this new form of drug trafficking, the police employ numerous high-tech investigative techniques. To some extent, there is more intellectual combat," Peng revealed.
Director Jason Kwan shared his aspiration to incorporate elements of the darknet — a hidden, encrypted layer of the internet notorious for illicit activities — into the film. He explained, "We made this movie to raise awareness about the dangers of drugs. Criminals are keeping up with the times, and as creators, we aim to create a piece that serves as a fresh warning to all."
The press conference for "I Did It My Way" evolved into a nostalgic tribute to Lau, with colleagues like Peng, Gordon Lam, Philip Keung, and Simon Yam sharing fond memories and citing Lau's previous classics that had inspired them. They further shared their experiences of working with Lau and how they viewed him as a professional and hard-working filmmaker, considering him their role model.
A promotional poster for "I Did It My Way." [Image courtesy of Alibaba Pictures]
Lau's schedule is demanding, and his body of work is extensive. This year alone, "The Wandering Earth II" and "Moscow Mission," where he served as both producer and actor, have been released to significant success. Before the year's end, audiences can look forward to at least two more films featuring him: Felix Chong's "The Goldfinger" on Dec. 30 and "I Did It My Way," scheduled for release on Dec. 29. Additionally, "The Movie Emperor," another highly anticipated film produced by and starring Lau, directed by Ning Hao, is slated for release during the 2024 Spring Festival.