Young filmmaker Li Xu has crafted a film with both poetic and academic qualities, titled "Sunflower in the Dark," exploring the theme of an individual's confrontation with life and death.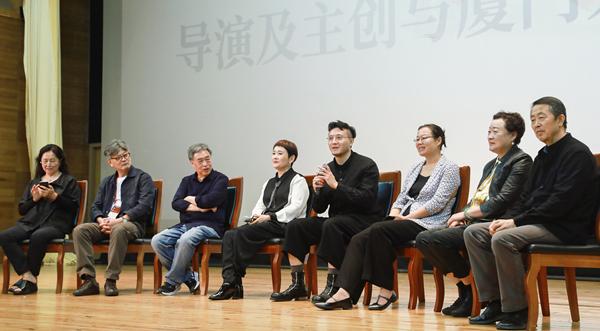 Director Li Xu speaks at a screening and discussion event for "Sunflower in the Dark," alongside the cast and crew, at Xiamen University, part of the 2023 China Golden Rooster and Hundred Flowers Film Festival in Xiamen, Fujian province, Nov. 2, 2023. [Photo courtesy of Dayandi Culture Media (Hebei Province) Co. LTD]
Nominated for two Golden Rooster Awards, "Sunflower in the Dark" was featured in a special screening during the 2023 China Golden Rooster and Hundred Flowers Film Festival at Xiamen University on Nov. 2. The event, held in Xiamen, Fujian province, concluded with a lively exchange between the director, cast, crew, and students.
The film chronicles the journey of an urban woman facing a terminal illness who abandons treatment to revisit the rural place where her late husband once worked. In search of closure, she relives cherished memories of her youth, encounters a shadow puppeteer, interacts with children left behind by migrating parents, and discovers the essence of life's warmth.
Speaking about the film's theme, the director stated that the movie examines the internal state and reflections of a person confronting life and death. "When we discuss life and death, we're essentially discussing time. Life begins with time, and death signifies its end. The protagonist's quest to 'find her roots' is an act of understanding that allows her to look into the future. If one disregards their past, they may struggle to face the future, potentially experiencing a spiritual death well before a physical death," he explained.
Working with an experienced cast and crew who had previously collaborated with directors like Zhang Yimou, Jiang Wen, and even Quentin Tarantino, director Li spent four years developing "Sunflower in the Dark." The film was continuously refined to ensure the highest quality, with the director paying close attention to detail. "We meticulously crafted every single shot to deliver a powerful impression to the audience," producer Li Xingguo revealed. He expressed his hope that this production will set new creative and aesthetic trends in filmmaking.
Ethnic Mongolian actress Narenhua, 59, expressed her admiration for the director, who was born in the 1990s, and was intrigued by his bold choice to explore life and death as central themes. "He sees the world through different eyes compared to those of us born between the 1960s and 1980s," she said, noting his distinct approach to framing shots and expressions in filmmaking.
Screenwriter Liu Yibing also holds that while people cannot conquer death, they can find hope. "I don't want the film to be so cold; I really hope it can convey warmth. This warmth stems from the memories of life and all the kind-hearted people we meet," he said.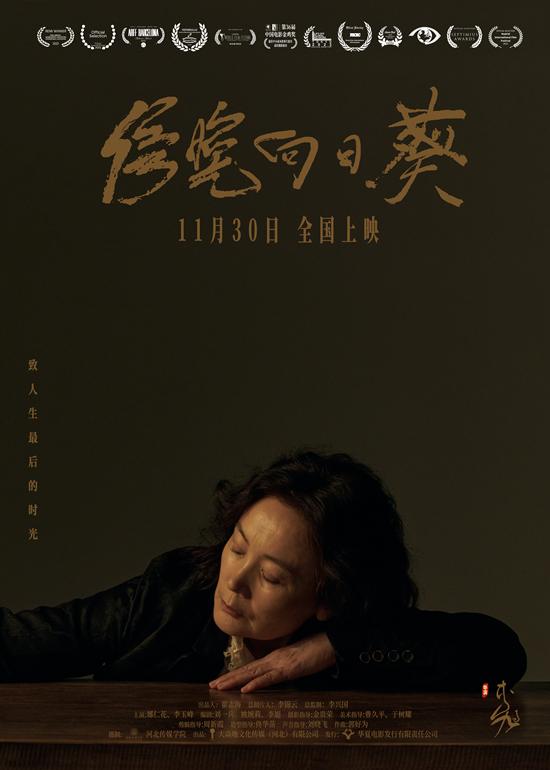 A poster for the film "Sunflower in the Dark." [Photo courtesy of Dayandi Culture Media (Hebei Province) Co. LTD]
Born in 1994, Li has a doctorate from the Chinese National Academy of Arts and is also a teacher at the Beijing Film Academy. He shared a message for students at Xiamen University: "When young people create, their perspective is the most important part. Every piece of work, regardless of the level and quality of the work, should carry the unique essence of that stage. This is the most precious thing."
"Sunflower in the Dark" is scheduled for release on Nov. 30. The film has already been showcased at international events earlier in the year, earning accolades such as a Remi Bronze Award at the 56th WorldFest-Houston International Film Festival in the United States, an Audience Award at the 9th Barcelona International Film Festival in Spain, and additional recognition in Nice, Madrid, Cannes, and Tokyo.