A new book, "The Historical Narrative of Chinese Children's Science Fiction," documenting the development of this genre from 1949 to 2021, has recently been released.
A screen grab from the online seminar on "The Historical Narrative of Chinese Children's Science Fiction," held in Chengdu, Sichuan province, Nov. 8, 2023. [Photo courtesy of Time Vision]
Chinese popular science and sci-fi mogul Dong Renwei served as the chief editor of the book, which was masterminded by Gan Weikang, chair of the Chinese Nebula Awards Operating Committee. It features contributions from several sci-fi writers, publishers, researchers, and critics, including Han Song, Yao Haijun, Ling Chen, Yin Chao, and Ma Chuansi. The book comprises three chapters: the first recounts the history of Chinese children's sci-fi development, the second contains 10 research articles, and the third presents a selection of children's sci-fi works.
At a seminar held by the International Children Science Fiction Association and the World Children Science Fiction Research Center on Nov. 8 in Chengdu, Sichuan province, which included both online and in-person participation, Dong reflected on how China's children's sci-fi experienced its first prosperous era through children's book publishers and magazines from 1949 to 1965. In that era, children's science fiction, characterized by a popular science style, was the most prominent genre in Chinese science fiction.
He continued through history, noting that from 1977 to 1983, there was another prosperous era for Chinese sci-fi, highlighted by writer Ye Yonglie's works selling millions of copies. However, the genre suffered setbacks from 1984 to 1990 but started to revive in 1991. Thanks to the emergence of top sci-fi writers like Liu Cixin, Wang Jinkang, Han Song, and He Xi, Chinese sci-fi has risen to world-class status, with "The Three-Body Problem" being the pinnacle.
From 2011 to 2021, Dong said, Chinese sci-fi entered its phase of prosperity, supported by magazines like Science Fiction World, various publishers, sci-fi works, films, and awards. Meanwhile, children's sci-fi also experienced rapid growth, with more writers joining and releasing an increasing number of such books.
"To summarize the experiences and lessons of developing Chinese children's sci-fi literature, we conducted archival research, interviews with eyewitnesses, recollections from those involved, and investigations into publishers and periodicals. With the full support of the children's sci-fi community and through organizing historical materials and firsthand information, we have written, compiled, and published 'The Historical Narrative of Chinese Children's Science Fiction.' It is a collective creation by Chinese children's sci-fi enthusiasts," Dong noted. He added that research materials for the genre are still insufficient and welcomed more suggestions and additions.
Award-winning children's sci-fi author Ma Chuansi pointed out at the seminar that, compared to the current enthusiasm for non-children's sci-fi research, attention from the critics' community toward children's sci-fi has always been relatively sparse. Research results are scarce, and there is a gap in terms of monographs focused on children's sci-fi research. "'The Historical Narrative of Chinese Children's Science Fiction' helps broaden societal awareness of children's sci-fi, gathers enthusiasm for researching and critiquing children's sci-fi, and promotes the development of children's sci-fi creation."
Lu Yang, another prominent writer in Chinese children's sci-fi, emphasized the poignant contributions of his predecessors to the genre's growth. He noted the significant development of Chinese sci-fi literature in recent years, shifting from initial explorations to mainstream recognition. Lu emphasized the vital role of children's sci-fi in the broader sci-fi landscape, attributing the genre's achievements and honor to the silent dedication of countless predecessors. This legacy, a result of generations of creators' sweat and effort, serves as inspiration for the new generation to courageously pursue children's sci-fi creation and encourages those currently engaged in children's sci-fi creation to persist despite challenges.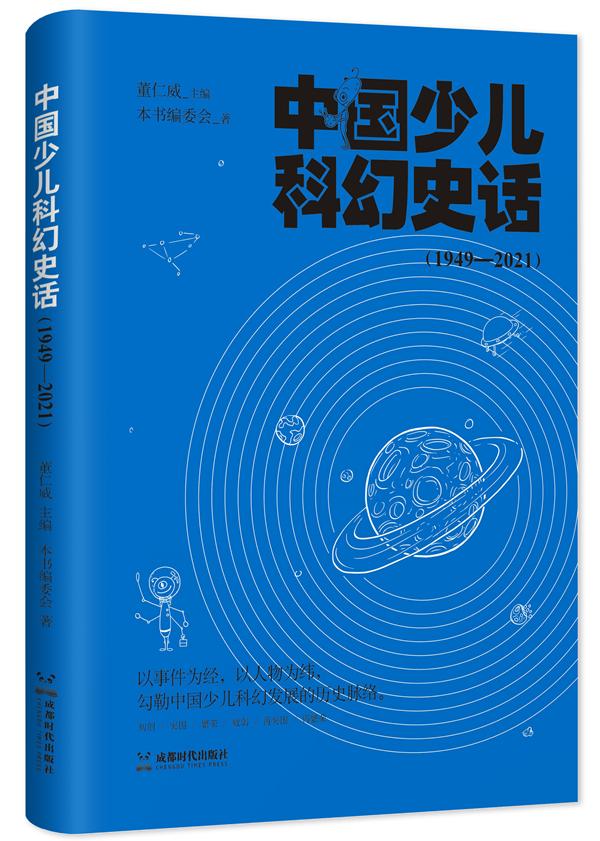 Book cover art for "The Historical Narrative of Chinese Children's Science Fiction." [Image courtesy of Chengdu Times Press]
Before the new book, Dong Renwei spared no effort in promoting Chinese children's sci-fi. As early as 2019, he wrote reviews and research articles on this field and initiated the Children Science Fiction Nebula Awards, independent of the established Chinese Nebula Awards. Although the awards ceremony was delayed to 2021 in Chongqing due to the COVID-19 pandemic, sci-fi writer Ma Chuansi eventually received the Best Children's Sci-Fi Novel award for "The City of Ants." Dong also contributed to the genre by writing his own children's sci-fi book, "Mystery Case of Sanxingdui," to bolster and contribute to the wave of development.