"Porco Rosso," the classic animated feature by celebrated Japanese director Hayao Miyazaki, is finally being released in China, allowing longtime fans of the film the chance to watch it on the big screen.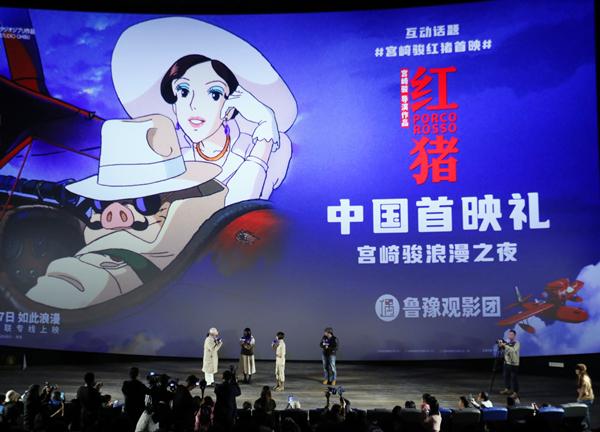 Chinese premiere of "Porco Rosso" is held in Beijing, Nov. 10, 2023. [Photo courtesy of Road Pictures]
Released in 1992, the animated adventure-fantasy film "Porco Rosso" is based on Miyazaki's three-part 1989 watercolor manga, "The Age of the Flying Boat." The storyline follows an Italian World War I ex-fighter ace, now a freelance bounty hunter, as he pursues "air pirates" in the Adriatic Sea. However, an unusual curse has transformed the pilot into an anthropomorphic pig. Formerly Marco Pagot, he is now known as "Porco Rosso," Italian for "Red Pig." The film also features a classic score by renowned Japanese composer Joe Hisaishi.
As a childhood favorite of generations, "Porco Rosso" aroused much nostalgia among the audience during its Chinese premiere on Nov. 10, more than three decades since its initial release. As the screening came to an end, the theater resounded with applause. The host of the premiere, popular TV host Chen Luyu, shared her insights into the film's background, stating, "Hayao Miyazaki is from the last generation of people who used a pen and brush to create animation, and the character of Porco Rosso is the driving force behind Miyazaki's creation. Understanding that era allows us to comprehend the pain, hope and romance in the film."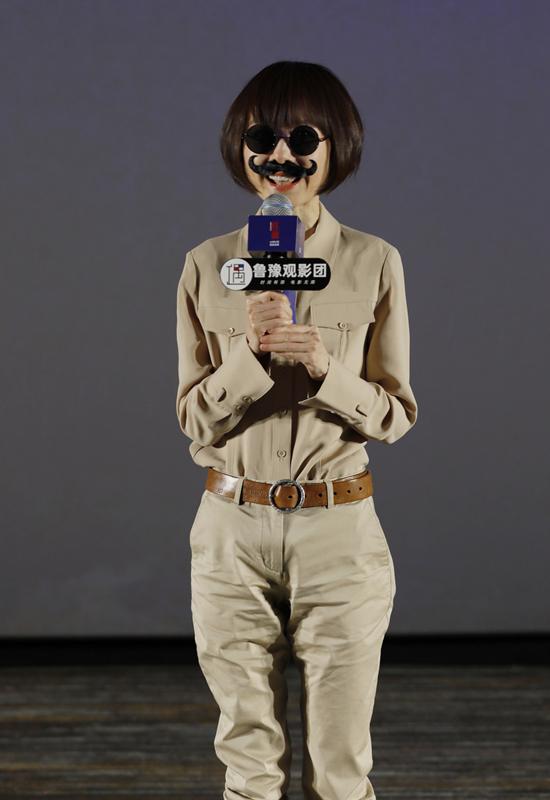 TV host Chen Luyu, dressed as Porco Rosso, speaks at the Chinese premiere of "Porco Rosso" in Beijing, Nov. 10, 2023. [Photo courtesy of Road Pictures]
In recent years, several beloved classics by Miyazaki have graced Chinese screens. In 2018, "My Neighbor Totoro" (1988) made its debut in China, generating 173 million yuan ($24.53 million) at the box office. The Academy Award-winning "Spirited Away" (2001) was introduced to Chinese audiences in 2019, amassing an impressive 488 million yuan, while "Ponyo" (2008) followed in 2020, earning 28.41 million yuan. "Laputa: Castle in the Sky" (1986) was also released in China this May, achieving an impressive 135 million yuan.
This time, Road Pictures is handling the release of "Porco Rosso" in China. The company has established a successful track record in introducing Japanese animated blockbusters in the Chinese market over the last two years, including Takehiko Inoue's "The First Slam Dunk" (2022), Makoto Shinkai's "Suzume" (2022), Goro Taniguchi's "One Piece Film Red" (2022) and Tomohiko Itou's "Hello World" (2019). The film is scheduled for nationwide release on Nov. 17 through the National Alliance of Arthouse Cinemas (NAAC), a group formed in 2016 and operated by the China Film Archive in collaboration with a consortium of theater chains supporting arthouse films.
Beyond movies, as a close partner and collaborator with Japanese animation companies and rights holders, Road Pictures also announced in late October that it had founded a new company named Gugugugu to explore content, branding and merchandise. Gugugugu will host a new exhibition themed on Makoto Shinkai's "Suzume" in December.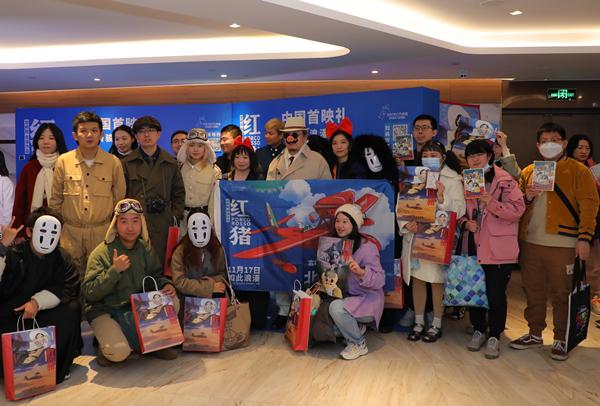 Fans of "Porco Rosso" pose for a group photo at the film's Chinese premiere in Beijing, Nov. 10, 2023. [Photo courtesy of Road Pictures]
Back at the premiere, many of the attendees, including host Chen Luyu, had dressed up as classic characters from "Porco Rosso" and other films in Miyazaki's cinematic universe. The film's Chinese dubbing voice artists also attended the event and engaged in exchanges with the audience, while a jazz band played the score before the beginning of the screening. However, while Hayao Miyazaki's latest work, "The Boy and the Heron," was released to critical acclaim in Japan this July, as well as several other markets, there is no word yet on whether it will also be released in China.