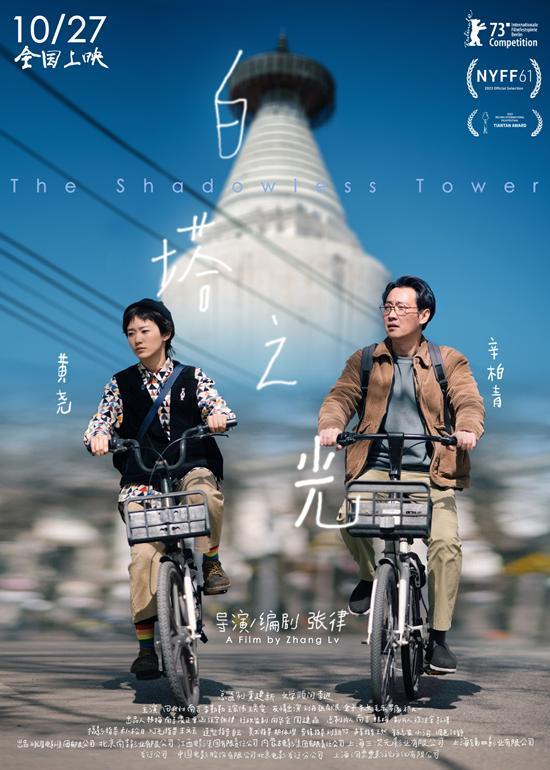 A promotional poster for "The Shadowless Tower." [Image courtesy of Emei Film Group]
At a cafe in a downtown Beijing hotel, the afternoon sunlight pours through a giant glass window, casting a warm glow upon the table. Director Zhang Lyu slowly recalls how he took a mere 14 days to write the script of The Shadowless Tower — the biggest winner at the 13th Beijing International Film Festival earlier this year.

The movie, like the 61-year-old scriptwriter-filmmaker, who has a deep emotional connection with the Chinese capital due to three decades spent living in the city, depicts a serene and composed Beijing in a gentle and soothing narrative.
Shot in areas surrounding the White Pagoda, a signature structure in a temple constructed during the Yuan Dynasty (1271-1368) situated in Xicheng district of Beijing, the movie revolves around Gu Wentong, a middle-aged Beijing native and poet-turned food critic.
As a divorced father whose elder sister and her husband take care of his young daughter, Gu engages in his routine review writing while struggling to maintain a tentative romance with a 25-year-old photographer, Ouyang Wenhui. The free-spirited woman seemingly has an ambiguous interest toward him, but she still can't let go of her first love, who cheated on her and has moved to Paris.
Meanwhile, the protagonist encounters fresh problems — his father, who was kicked out by his mother over an indelicate moment on a bus when Gu was young — is discovered to be living alone in Beidaihe, a coastal district in Qinhuangdao in Hebei province. Every year, when Gu and his sister celebrate their birthdays, the guilty father rides a decrepit bike nearly 300 kilometers just to secretly watch them from afar.
In addition to the major characters, the cameos and extras complete an interesting picture of traditional Beijing and its distinctive hutong culture, exemplified by a scene featuring local residents gathering on the sidewalk to play chess, a conventional form of entertainment in Beijing.
In February, the movie earned a nomination in the competition section of the 73rd Berlin International Film Festival. Two months later, during the 13th Beijing International Film Festival, it stole the spotlight by sweeping five awards, including the Tiantan Award for best leading actor and best screenplay. In late September, it also won the awards for best feature film and best cinematography at the 10th Silk Road International Film Festival. The film was released domestically on Oct 27.
Behind all these honors, the movie's plot was conceived during an unusual trip. In September 2020, Zhang concluded a 10-year tenure as a professor at Yonsei University in Seoul, South Korea, and flew back to China.
Due to pandemic control policies at the time, Zhang arrived at an airport in Guangzhou, the capital city of Guangdong province, and was required to undergo a 14-day quarantine in a hotel.
As he found himself confined to a small room, his mind began to wander. Memories of his youth flooded back, particularly those spent in the vicinity of the White Pagoda, where he would often gather with friends to while away the hours.
Although Beijing has undergone drastic changes in recent decades, the hutong areas near the White Pagoda — from the narrow alleys to the traditional courtyards — have retained their traditional appearance, giving the director, who was born in 1962, a touch of nostalgia.
"Beijing is a very square-shaped and orderly city. In this kind of layout, the eccentric design of the White Pagoda, which is round and rises upward, appears quite abrupt. However, it is precisely because of the pagoda's rounded shape and its bright color that it seems to bring solace to people," Zhang explains.
Born into an ethnic Korean family in rural Yanbian, Jilin province, Zhang majored in Chinese literature at Yanbian University and after graduating, he stayed on as a teacher and began writing novels. Before the age of 38, his life had never intersected with filmmaking in any way. Even so, when certain emotions surged in his heart, they would manifest themselves in his mind not just as words, but as vivid moving images.
"It was complicated to explain my original motivation for shifting from literature to filmmaking. However, I have always been sensitive to images conveyed through audio and video," he recalls.
Despite describing himself as "the only layman" during the shooting of his first movie, Zhang successfully began his cinematic career with his directorial debut, Eleven, a 14-minute tale that was selected for the short film category at the 58th Venice International Film Festival in 2001. Overseas recognition paved the way for Zhang's first feature film, Tang Poetry, which was financed by South Korean investors.
Over a span of more than 20 years, Zhang has directed some 10 feature-length movies, most of them acclaimed art-house films that have won nominations or awards at international festivals held in South Korea, Europe and North America.
Most of his movies possess a distinctive flavor and temperament that captivates enthusiasts of literature and art. Such scenes in The Shadowless Tower include a hotel waitress reading French philosopher Roland Barthes' A Lover's Discourse: Fragments, and a bar where the protagonists have a date, with a blackboard announcing the in-house screening of South Korean director Lee Chang-dong's Burning.
Interestingly, Burning, a mystery thriller which won the Best Film award at the 55th Daejong Film Awards, a prestigious honor in South Korea, had a special purpose in the scene. Zhang, a friend of Lee's since the early 1990s, said he intentionally promoted Burning in his own film, hoping that the gesture would allow him to use the film's music for free. Unfortunately, due to complicated copyright red tape, his wish was not realized.
But for him, having lived abroad for many years, the reward for making this film was recreating the Beijing that is etched in his memories. "The Chinese stories that attract foreign audiences the most are those that depict cities, or even specific neighborhoods that Chinese filmmakers are most familiar with. If you find it interesting yourself, the audience will find it fascinating too."