A new biopic based on the life of a role model teacher in China is set for release on Nov. 24, with its recent premiere already touching many hearts.
The cast and crew of "Beyond the Clouds" pose for a group photo at the film's premiere in Beijing, Nov. 16, 2023. [Photo courtesy of Maoyan Entertainment]
"Beyond the Clouds," directed by Zheng Dasheng and Yang Jin and starring actress Hai Qing, depicts the true and poignant story of Zhang Guimei, a dedicated teacher committed to girls' education. Zhang currently serves as the principal of Huaping Senior High School for Girls and as president of a home for underprivileged children in Huaping county, Lijiang city, Yunnan province.
Hai Qing spent a lot of time visiting and working with Zhang Guimei, refining her portrayal to accurately depict the nationally renowned teacher and her inspiring spirit. "Her persistence in what she does has always inspired me," Hai said at the film's premiere on Nov. 16 in Beijing. "The more you get to know her, the more you realize you cannot compare. This character is a high mountain that is hard for me to climb. But she once said, 'Whenever there's difficulty, hang on a bit longer, and you will overcome it,' which greatly encouraged me."
The actress added that she hopes the film will inspire viewers to be a light for themselves and others, igniting more hope. The film showcases the teacher's significant deeds and sacrifices and portrays the girls' diligent studies and struggles to change their destinies, going beyond mountainous areas and poverty.
Several real students from Yunnan province, though not Zhang's students, were featured in the film and attended the premiere. They stated that their trips to urban cities for film events and sightseeing had broadened their horizons, further inspiring them to strive toward realizing their life goals and dreams.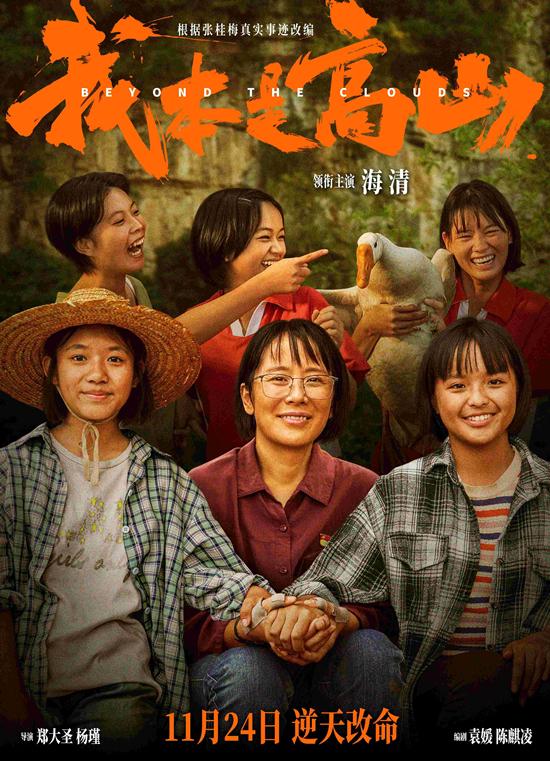 A poster for "Beyond the Clouds." [Image courtesy of Maoyan Entertainment]
Born in 1957 in Heilongjiang province in northeast China, Zhang Guimei moved to Yunnan at age 17 and has dedicated more than 40 years to helping girls from impoverished areas pursue education. With the support of the Party and the government, she played a key role in establishing the nation's first senior high school offering free education to girls from disadvantaged families. Since its founding in 2008, the school has seen over 1,800 students advance to universities and colleges.
Zhang won the July 1 Medal, the highest honor for outstanding members of the Communist Party of China, in 2021, and was named "Role Model of the Times" in 2020, both in recognition of her dedication to girls' education.