IMAX will premiere the critically acclaimed documentary "Asteroid Hunters" in China early next year, marking the first commercial release of an original IMAX film in the country.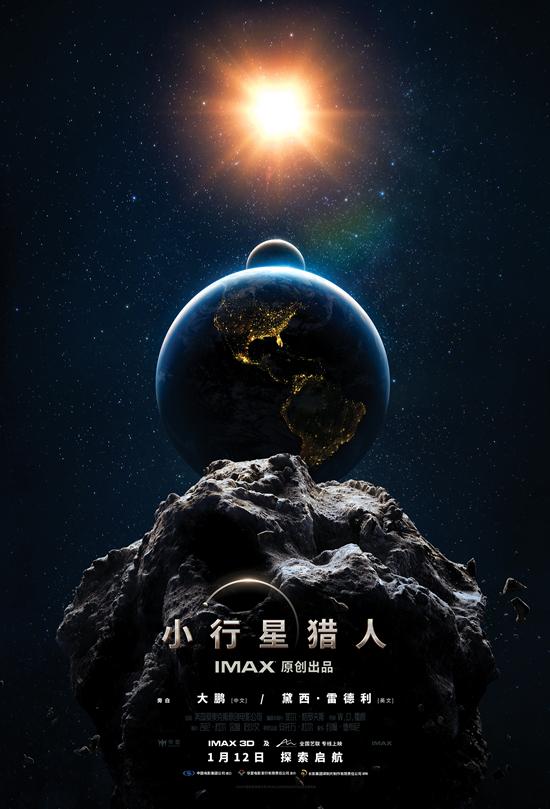 An IMAX poster for "Asteroid Hunters." [Image courtesy of IMAX China]
Shot with IMAX cameras and integrated with CGI and digital simulation technologies, the film takes audiences on a journey into deep space for a close-up look at asteroids. It explores their origins and the potential threat they pose to Earth. Top asteroid scientists in the film reveal the cutting-edge technology and techniques used to protect our planet from this preventable natural disaster. IMAX hopes the film will inspire young Chinese children to gaze at the stars and explore the universe.
This unique 40-minute IMAX original film is narrated by Daisy Ridley. For the Chinese version, director and actor Dong Chengpeng, also known as Da Peng, will narrate, becoming the first Asian actor to do so for an IMAX original film.
Supported by China's Huahuang Pictures, "Asteroid Hunters" will be released on Jan. 12, 2024, in IMAX theaters in China and through the National Alliance of Arthouse Cinemas (NAAC). The NAAC, formed in 2016, is operated by the China Film Archive in collaboration with a consortium of theater chains that support arthouse films.
Popular science documentaries have been a crucial aspect of IMAX's business since its inception. For decades, IMAX has led the production of highly educational and groundbreaking original films. These films, shot using IMAX cameras, are showcased in renowned science centers and educational venues worldwide. They take global audiences on journeys through space and the deep sea, exploring the mysteries of science, nature, and the humanities.
"Asteroid Hunters," a widely recognized title among IMAX's original films, has been available in various markets since 2020. IMAX, known for screening cinematic blockbusters in premium large format, has expanded its presence with over 800 IMAX theaters in the Chinese market. The company, which typically showcases its original documentary films at film festivals and science museums, has now finally decided to try a commercial release in China for the first time, exciting its fans.