Saving costs seems to be the key for textile exporters to maintain their competitive edge in overseas markets while material costs and the yuan keep rising.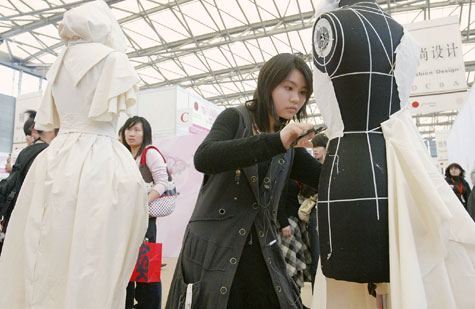 A student from the Shanghai Institute of Design creates a dress at the 14th Shanghai International Clothing & Textile Expo. The three-day event opened yesterday at the Shanghai New International Expo Center.
Some exhibitors at the 14th Shanghai International Clothing & Textile Expo spoke of their concerns about rising production costs, but they were still confident about the robust domestic market.
The expo, which kicked off yesterday and will run until tomorrow, attracted about 1,500 exhibitors at the Shanghai New International Expo Center.
Fuzhou Topbi Fashion Co Ltd, with annual exports of children's clothes exceeding US$70 million, will improve its supply chain to control costs, said marketing manager Hu Jingcan.
"Exports accounted for 70 percent to 80 percent of our total sales, but the company was not affected a lot by rising material prices as we have stable clients in foreign countries and target high-end customers," Hu said.
But he said that raising product prices is an inevitable step.
Underwear maker Shanghai Threegun Group Co Ltd said domestic sales accounted for most of its revenue, which totaled more than one billion yuan (US$141.75 million) annually.
"Our focus is on brand-building and controlling costs," said Threegun's official Jiang Libei.
Clothing sales rose 24 percent in China last month from a year earlier, while the country's textile and garment exports shrank 32.9 percent in the period.
Analysts attributed the slowdown of exports to slack demand in the United States and Europe and the unusually harsh winter in China. Some textile firms have turned to the domestic market, expecting that booming local demand can balance losses from exports.
Jackie Chang, a sales official of Zhejiang Luckytex Textile Co Ltd under Fulida Group, said the company began developing the domestic market last year, which now accounts for 20 percent of its total sales.
"We have to enhance management and supply chains to reduce the costs, or we will lose more advantages in overseas markets," Chang said. The company was also making efforts on innovation and quality to attract overseas clients, he said.
Korean exhibitor Indibuni Co Ltd is seeking partners to tap the Chinese market, where it sees huge potential.
(Shanghai Daily March 25, 2008)