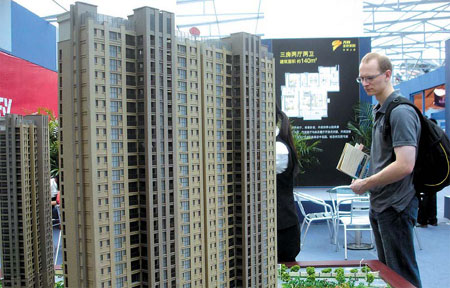 An expat in Suzhou visits a local residential property fair last September.[China Daily]
Expatriates hoping to escape the perils of the real estate market at home are finding more of the same in China.
While rents in both Beijing and Shanghai are dropping, foreigners are increasingly squeezed by layoffs, reductions in living allowances, and currency devaluations. Buying a house, once considered a good investment, is also dicey, as economic uncertainty affects both the price and the pool of potential buyers.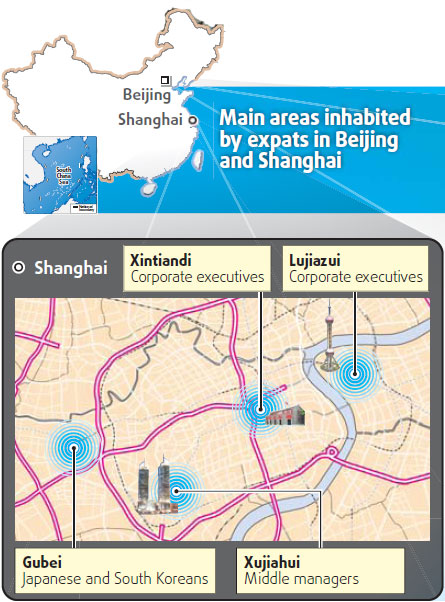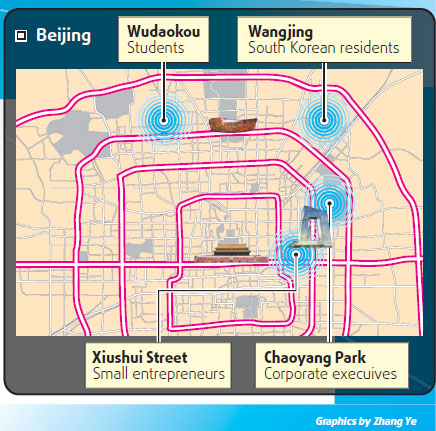 In Beijing, the South Korean community has been particularly hard hit by the devaluation of the won. Some 20,000 of 70,000 South Koreans living in the Wangjing neighborhood have gone home.
Prices of existing homes have nosedived, while rents of luxury apartments have dropped by 15-20 percent, according to one popular agency, Homelink Real Estate.
Among those who have left is Cho Soojin, who founded a dance studio in Beijing in 1994 and later choreographed cheerleaders at the Olympic Games. Although her landlord dropped the rent on her studio from 70,000 to 60,000 yuan per month, Cho could not afford to stay in business.
In both Beijing and Shanghai, layoffs and shrinking housing allowances have affected rents and home sales.
"Middle management expatriates who are new to China are getting a smaller housing package, down 40 to 50 percent from their predecessors," said Michael Klibaner, head of research with Jones Lang LaSalle Shanghai.
Even foreign managers who are already in China are facing cuts, according to Klibaner. A middle manager who had been receiving 30,000 yuan per month might be asked to get by on 15,000 or 20,000 yuan, he said.
Junior managers are also facing cuts of 25 to 50 percent in their housing allowance, according to Klibaner. Only senior managers have kept their perks and maintain their luxury villas in areas like Gubei in the Changning district of Shanghai.
Overall demand for expat housing has shrunk as well.
"Since the end of 2008, many multinational companies have decided not to renew the contracts of some expatriots, leaving these positions for less senior foreigners or local people," said Hingyin Lee, research director of Colliers International's East China division.
As a result, furnished apartments in downtown Shanghai, once the home of many foreign middle managers, have become difficult to lease at their former rents.
Residential sales have also been affected, but analysts believe there is light at the end of the tunnel.
In 2007, the government moved to rein in the booming real estate market, particularly high-end property, by requiring foreigners to live in China for 12 months before buying, and by limiting them to one residential property.
Recently, these restrictions have been relaxed, as home prices in 70 major cities dropped for three straight months since December last year.
However, Meng Qi, senior analyst for Century 21 China Real Estate, does not believe that changes in regulation will have a significant effect on the market.
"It is the market, not regulations, that affects foreigners' investment decisions," he said.
Home sales have been sluggish in February and March, which are usually among the most active months. But Meng believes business will improve soon, as foreign investors have begun to show interest.
"They know where the money is, and I believe in their sense," Meng said.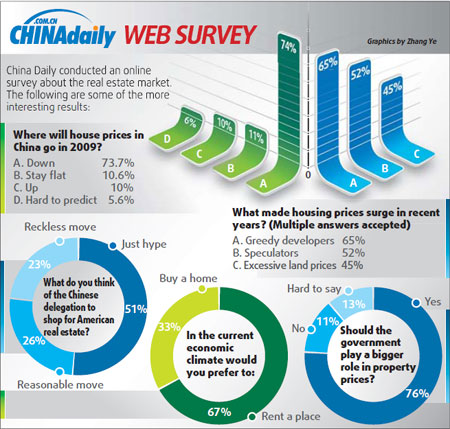 (China Daily March 16, 2009)