Wine maker Changyu's strong results in 2008, coming as it does in the midst of a global downturn, has buoyed domestic investors.
Changyu, which was supposed to release its 2008 results on Friday, was forced to release the numbers yesterday to correct UK-based Canadean's claim that Changyu had become the No 7 wine producer in the world.
Canadean, the world's leading beverage researcher, had ranked the Chinese wine maker higher from its No 10 ranking earlier, based on its projection of Changyu's revenue of US$890 million for 2008.
However, in a statement to the Shenzhen Stock Exchange, Changyu said sales in 2008 was 3.45 billion yuan, or US$505.48 million, 43 percent lower than Canadean's estimate. Its profit for 2008 rose 24.09 percent from a year earlier to 1.18 billion yuan, on the back of a 26.49 percent surge in sales.
How the company would fare in the Canadean ranking system after its actual sales numbers was not clear at this point, but the company's performance looks impressive nonetheless, stock analysts said.
"Changyu's 2008 figures are surprisingly robust and absolutely beyond our expectations," said Teng Wenfei, analyst at Shanghai Securities.
What makes Changyu stand out among global wine makers was its resistance to the normal business cycle. Its performance in the last quarter of 2008, after the outbreak of the financial crisis, bettered that of the previous three quarters when the global economy was still in relatively sound health.
Changyu posted a net profit of 300 million yuan in the last three months of 2008 compared to 272 million yuan in the 2008 first quarter, 129 million yuan in the second and 189 million yuan in the third quarter.
Changyu attributed the robust growth to "strong demand, good control of costs and management fees, and reduction of corporate income tax rate from 33 to 25 percent (since January 2008)".
Although the China market was seen to be the most resilient in the world, it has not been immune to the economic downturn. Indeed, wine output volume began to slide from its peak in June, which brought down the whole year growth to 23.6 percent despite a first-half growth of 63.6 percent.
But analysts said China's wine market has the potential for explosive growth over the longer term. China Jianyin Investment Securities predicted the country's annual wine consumption would double in five years.
International wine makers are now turning to China as their largest markets, the US and the EU, have shrunk almost overnight. According to Canadean, the top 10 wine makers' sales for 2008 dropped by 4.6 percent year-on-year.
A slew of imported wines from markets including Chile and Australia are entering the low-end segment. "These will be adding pressure on domestic producers such as Changyu," said Teng.
Changyu, Greatwall and Dynasty are the top three local players, with a 40 percent share of the domestic market. Around a 30 percent share is held by foreign brands.
The low- and mid-end segment generates a profit margin of 20 to 30 percent, while the high-end profit margins could be as high as 70 percent.
"Changyu will be targeting the mid- and high-end in 2009," said Zhou Hongjiang, Changyu's general manager. The firm now owns 20,000 acres of high-quality vineyards in China. It plans to increase this to 32,949 acres in three years.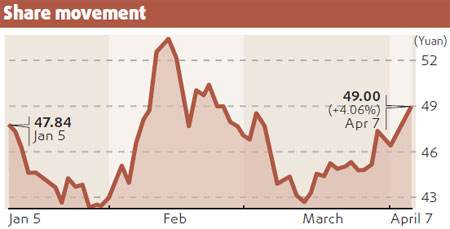 (China Daily April 8, 2009)