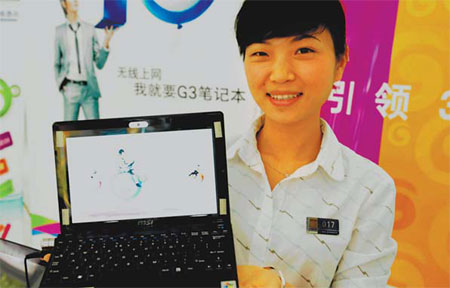 A worker displays a netbook at the China Mobile office in Guiyang, Guizhou province. [Xinhua]
China may have been late in embracing the 3G technologies. But the services could not have come at a more opportune time than now for electronics retailers like Gome and Suning.
The uncertain economic climate has depressed white goods sales and forced many major retail chains to drastically cut prices to move stocks. The hefty price cuts have also made the sale of most of these goods unprofitable.
With the advent of 3G services, the retailers have found that it is profitable to sell netbook computers. These machines, which are gaining increased popularity among Chinese netizens, are basically toned down laptop computers.
Netbooks owe their popularity to their low prices, ranging from 2,000 yuan to 4,000 yuan apiece, compared to the average price of about 6,000 yuan for a fully-laden laptop. The machines are also small and light, weighing between 1 kg to 1.5 kg, making them easily portable.
Of course, there are laptops that can match netbooks in terms of size and weight. But any of these svelte beauties could set you back by more than 10,000 yuan.
Telecom operators and consumer electronics retailers are hopeful that the 3G services would boost the sales of netbooks, which have the optimum size and capability to enable users access most of the functions of the new telecommunication platform. Most of the major consumer electronics retailers are gearing up for the ensuing sales bonanza to lift their businesses from the economic gloom.
In late April, Gome and Suning, the top two consumer electronic retailers in China, partnered with China Mobile in launching and selling the first range of 3G netbook PCs made by six household electronics home brands including Haier, Dell and HP, in most of their stores nationwide, after the world's biggest mobile phone operator in terms of subscription numbers started trial operations for 3G services in mid-April.
Last Sunday, Suning, along with China Telecom, started selling netbook PCs at its stores in 30 cities nationwide. The netbooks supported by the China Unicom 3G technology are also expected to be in stores very soon.
"When they (the telecom operators) finish setting up the stations and expand their networks wider and wider nationwide, we will be selling netbooks at special counters all over our stores," said Fan Zhijun, vice-president of Suning Appliance, and also the company's executive president of North China Division.
Cai Xu, manager, 3C Business Center, Gome, told China Daily that netbook PCs are expected to be available in all Gome stores by the end of 2009.
The telecom operators aren't slowing down either. China Mobile has expanded its 3G service network to 38 cities; China Telecom has expanded services to 342 cities, and the figure will go up to 500 by July. China Unicom's network covers 55 cities and would expand to 284 cities by September.
Ever since telecom operators got the nod to start 3G services, they have been working with domestic and foreign computer manufacturers and vendors to build netbooks that support their respective platforms. On April 15, 17 PC makers launched 29 different brands of netbook PCs based on TD-SCDMA technology of China Mobile. A day later, China Telecom reached an agreement with 14 PC makers to produce 20 different netbook PCs for its servces. China Unicom launched three netbook PCs from different vendors before the Telecommunication Day.
While riding the 3G wave, retailers are also taking efforts to tap the potential of the netbook PC market. According to iSuppli, the world's leading technology value chain researcher, China's netbook PC market will grow to 2.6 million units this year, five times that of 2008.
More attractive to retailers is the higher profit margins in netbook sales. On an average, "our profit margin for netbooks is at least 5 percentage points higher than laptops," said Cai. "Netbooks will be our growth and profit driver in the PC business."
Cai expects unit sales of netbook PCs to account for 40 percent of all the PC sales, while sales value of netbooks would be around 20 percent of the total PC business.
While the financial crisis has dampened the consumer confidence in purchasing household electronics, Gome and Suning announced early this year their intention to shift to more profitable businesses like computers, communications equipment and small household electric appliances.
In late April, Gome decided to transform some of its existing stores into more profitable mega stores, as part of a "corporate strategic transformation" . It also intends to convert the rest of the stores into flagship and community stores that would sell 3C products and small household appliances. Suning also said it was renovating its stores in a bid to increase sales per store.
(China Daily May 21, 2009)