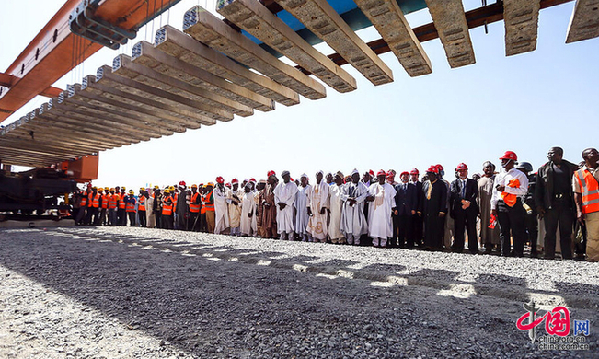 A railway that links Abuja and Kaduna of Nigeria has been completed. [China.org.cn]
Nigeria announced the completion of a railway that links Abuja and Kaduna after the country's Transport Minister Idris Audu Umar symbolically tightened the last bolt on Monday, Dec. 1, 2014.
The railway, which was contracted by China Railway Construction Corporation and will be operational in 2015, is the first phase of a bigger project that will provide modernized railways with Chinese technology standards to this African country.
The Abuja-Kaduna railway has been regarded as a successful export of Chinese railway technologies, according to Cao Baogang, vice chairman of CRCC subsidiary China-Africa Construction Limited. Cao mentioned that the contract, making use of US$300 million in exports of Chinese railway machinery, construction materials and locomotives, has spurred the local economy in Nigeria.
The railway modernization project in Nigeria spans 1,315 km from Lagos in the south to Kano in the north. The total contract is worth US$8.3 billion. The Abuja-Kaduna railway, a section of the Lagos-Kano Railway, stretches 186.5 km with nine stations in addition to the two terminals. Construction of the project started on Feb. 19 of last year. The maximum speed of this section is 150 kph.
CRCC President Zhang Zongyan said the Abuja-Kaduna railway and the Nigerian Coastline Railway project, which costs almost US$12 billion and is now the largest single overseas construction project China has ever contracted, are a major part of Nigeria's railway plan and one the Economic Community of West African States' most important connectivity enhancement projects.