UN Secretary-general Ban Ki-moon said here on Wednesday that he has sent letters to the participants of the G20 summit in London, asking for "urgent and decisive action" to deal with the ongoing global financial crisis.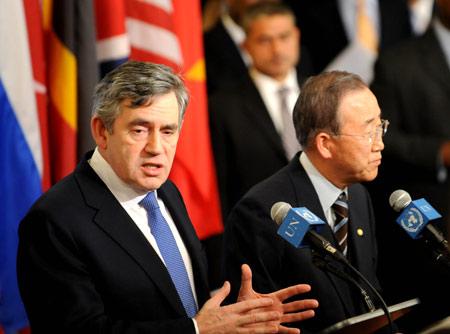 Britain's Prime Minister Gordon Brown (L) and U.N. Secretary-General Ban Ki-moon hold a news conference after their official meeting at the United Nations headquarters in New York,the United States, March 25, 2009. [Xinhua]
The secretary-general made the statement at a joint press conference with visiting British Prime Minister Gordon Brown following their talks. Brown is the chairman of the London summit, scheduled for April 2 to address the current crisis.
In the letter, Ban wrote: "As secretary-general of the United Nations, I write to you today with a strong concern that unless urgent and decisive action is taken to buffer the blows of the global downturn on the most vulnerable, the economic crisis may soon be compounded by an equally severe crisis of global instability."
"The first waves of the crisis brought a number of large banks and financial institutions to their knees," Ban said in the letter." A prolonged and severe recession, if not addressed boldly with urgent attention given to the needs of the vulnerable, could likewise affect countries and regions with profound consequences for the security and stability of us all."
"You have recognized that the world needs effective economic policy coordination at the international level, especially in light of the large national stimulus packages currently being put in place," he said, outlining the four areas where the G20 leaders need to show leadership.
"First and foremost, we need a truly global stimulus package that meets the needs of developing countries," Ban said. "Financial flows to developing countries have fallen precipitously, and few have the resources to put in place counter-cyclical policies and protect their populations against enormous social setback."
The United Nations has estimated that the total financing needed to support developing countries through the crisis is at least 1 trillion U.S. dollars for 2009 and 2010, he said. "While this is a large sum, most of it could be mobilized through existing mechanisms and institutions. In providing this support you will bolster the global economy, help to underpin your own growth, and secure global stability."
"A quarter of these resources are urgently needed to protect the most vulnerable people and countries," he said. "Previous crises have shown that social recovery takes much longer than economic recovery."
"A further quarter is needed so that all developing countries can borrow long-term for critical investments, including infrastructure for growth and for achievement of the MDGs (the Millennium Development Goals)," he said.
"A majority of the world's population lives in emerging economies and other developing countries that have enjoyed access to capital markets but now find themselves under severe pressure," he added.
"Second, we must avoid erecting new barriers that could slow economic recovery, and trigger grave social consequences," Ban said.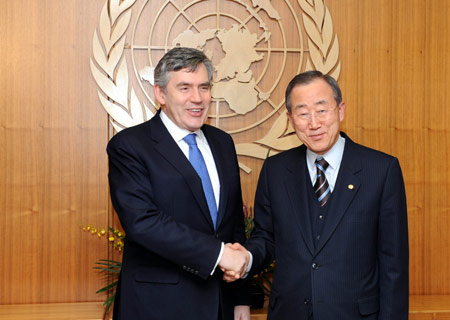 UN Secretary-General Ban Ki-moon (R) meets with British Prime Minister Gordon Brown at the United Nations headquarters in New York,the United States, March 25, 2009. Ban said on Wednesday that he had "very productive" talks with visiting British Prime Minister Gordon Brown on such issues as the upcoming G20 summit, scheduled for April 2 in London.[Xinhua]
"Rejecting protectionism is not an easy course to follow, but will be essential," he said. "Trade amongst countries provides a powerful stimulus to the global economy."
"Third, we must use the opportunity of new, large-scale investments in energy efficiency, clean energy and green jobs -- including through stimulus packages -- to set our economies and our planet on a sustainable path," said the secretary-general.
"Fourth, we must adapt our structures and systems to new realities," Ban said. "A genuine solution of the crisis requires anew international financial and economic architecture that reflects the changing realities in the world and gives greater voice to emerging and developing economies."
"We will likely face similar shocks and challenges in the future," he said. "It is clear that our early warning systems have been insufficient. The global economy will need better financial surveillance mechanisms to identify threats on the horizon."
"I would like to assure you that the United Nations stands ready to support you, by providing a global platform to consider these reforms and the intrinsic linkage between economic recovery, climate change, development, and peace and security," he said. "I look forward to the London meeting as an opportunity to send a new message of hope and determination to citizens of all countries."
(Xinhua News Agency March 26, 2009)