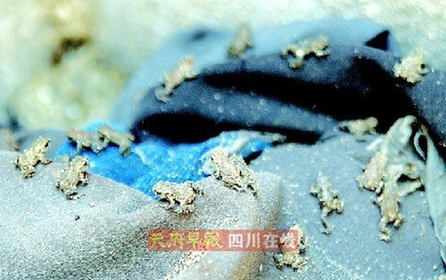 Groups of toads are seen on the street in Chengdu. [Photo/Newssc.org]
A stunning "parade" of over ten thousand toads on a street in Chengdu, stretching over 200 meters long, aroused public jitters over possible upcoming tremors on Tuesday in Sichuan province, where a powerful earthquake jolted in 2008, killing tens of thousands.
However, animal expert and seismologist refute the earthquake fears, saying the massive toad exodus was merely animal migration, in search of a cooler habitat before the summer heat arrives, the Newssc.org reported.