Chinese archaeologists have unearthed about 120 more figures in their latest round of excavations at the Terracotta Army site, according to a news report on May 18, 2010. [More I Video]
A company of Terracotta Warriors - most painted in rich colors - have been unearthed at the largest pit within the mausoleum complex of Emperor Qin Shihuang, according to a news report on May 12, 2010. [More I Video]
Do You Know?
Qin Shihuang (259 BC - 210 BC) holds a central place in Chinese history for being the first emperor who united the country. He is also well known for his part in the construction of the spectacular Great Wall and his splendid terracotta army.
The Terracotta Army, including warriors, chariots, horses, officials, acrobats, strongmen and musicians, were discovered in 1974 near suburban Xi'an, Shaanxi province. It was aimed at helping Qin Shihuang to rule another empire in his afterlife. 
5 guesses on Emperor Qin Shihuang's tomb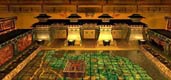 To ensure his rule in the afterlife, Emperor Qin Shihuang build a grand mausoleum as luxurious as any of the palaces he had in mortal life. As time passed, no one knew exactly what treasures were put there. [More]
Other Archaeological Discoveries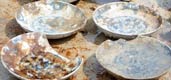 Nan'ao 1
Archaeologists managed to salvage relics from the sunken merchant vessel Nan'ao No 1 in May 2010 and retrieved more than 1,000 porcelain items.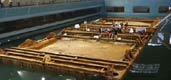 Nanhai 1
Chinese archaeologists discovered more than 200 precious porcelain artifacts on an 800-year-old merchant ship in the southern province of Guangdong in September 2009.
Tomb of Cao Cao
Legend has it that Cao Cao, King Wu of Wei kingdom in the Three Kingdoms period (AD 208 to 280), had built 72 tombs to thwart tomb raiders. Now, archaeologists have solid evidence to prove it wrong.