Life is returning to normal and survivors are trying to walk out from the shadow of losing their beloved ones eight days after a devastating landslide hit the county.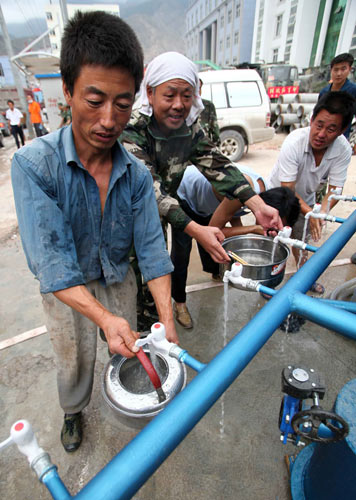 Local people get drinking water from a newly-dug well in Zhouqu county on Monday.
About 500 people have been temporarily housed in 103 tents in the campus of the No 1 Middle School, which is situated on a hill on the north side of Zhouqu. Two television sets in the teaching building and many radios placed inside tents are connecting people with the outside world.
"The mudslide-stricken people have calmed down a lot," said a volunteer from the Beijing-based Ren Ai Charity Foundation, who arrived at the temporary shelter five days ago.
"At first, people never responded when I asked them to drink or eat. Their instinctive needs were taken away by the sudden tragedy. But now people sometimes will come up to me and ask for bottled water," he said.
Wang Jianghong, a 33-year-old coordinator of the disaster-relief work in Zhouqu, also noted some positive changes in survivors.
"I didn't hear any loud cries on the street these two days, and the clothes and shoes people wear are much cleaner," Wang told China Daily on Monday.
The local bureau of civil affairs brought some fresh vegetables such as peppers, eggplants and onions at noon, he said. Also, drinking water has been secured for the relocated people but the demand for water for other uses was still difficult to meet since water pipes have yet to be installed, Wang added.
Five doctors have been stationed at the temporary shelter. In addition, herbal teas were sent out to people twice a day "to prevent sunstroke or indigestion" in the high temperatures, Zhao Xiaoqing, director of the Zhouqu women and children healthcare center, told China Daily.
To prevent epidemic outbreaks after the disaster, sterilization teams are disinfecting all tents, toilets and garbage dumps four times a day, according to Tan Chengcheng, head of the team.
"Generally speaking, public order is good here, despite some minor conflicts while distributing goods," said Wang Ningfang, a policeman from Panzhihua, Southwest China's Sichuan province.
The landslide took away three family members and buried the house of Han Jianhui, a 40-year-old survivor, but the catastrophe did not ruin her faith in life.
"The house is gone, but at least we survived," Han kept comforting her sister whose house was also buried.
"We live pretty well here. We will make it through with instant noodles and bottled water," is repeatedly heard by China Daily reporters from many of the interviewees at the temporary shelter.