South China's Guangdong Province will enact a local law on Oct. 1 to regulate the use of laboratory animals and protect animal welfare, government authorities said Wednesday.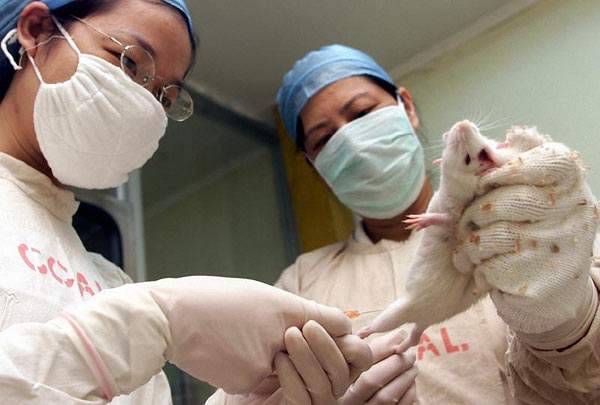 Lab staff experiment on a rat in Guangdong province in this file photo. [Provided to China Daily]
According to the Laboratory Animals Management Regulation of Guangdong Province, all lab animals should be anaesthetised before experimental surgeries and animals must be euthanized after experiments, said Zhou Haitao, an official with Guangdong's provincial department of science and technology.
It also stipulates that people engaged in laboratory work should monitor the conditions of lab animals, care for them, and not abuse them during the production, use and transport process.
Further, if a scientific research is not conducted as required by the law, the results of the experiments, evaluations, and other findings would be deemed invalid, according to the regulation.
Besides Guangdong, other provinces such as Heilongjiang, Guizhou and Yunnan, and municipalities of Beijing and Tianjin have enacted similar regulations.
Protecting the welfare of lab animals has become an important criterion for international society to recognize scientific research work, and is also a symbol of social progress, said Li Xinghua, head of the department.
According to the regulation, an organization or institute should have a permit issued by the provincial science and technology authorities to conduct experiments on animals.
Also, all lab animals are strictly prohibited from being traded on the market.
People who break the law can be fined from 10,000 yuan (1,472 U.S.dollars) to 30,000 yuan, and suspended from conducting such experiments, Zhou said.
Nearly 60 to 70 percent of medical research projects perform experiments on lab animals in China. In Guangdong, more than 40 species have been used as lab animals in the fields of medicine, environmental and industrial production, Li said.