November has become a hot month for campus recruitment in China where seniors spend much of their final year looking for jobs.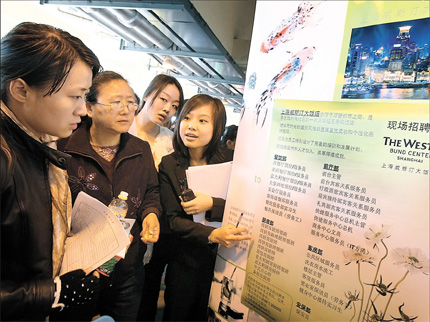 Fresh university graduates check job information during a job fair in Shanghai. Nowadays more and more post-1990s generation is turning to digital means to look for jobs.
But compared with past years, November is extremely early as recruiters try, often quite creatively, to snare the best and the brightest of the wired generation.
A flurry of recruitment events - and notably companies' online pre-selection games - are signs that the once dreary job outlook has improved somewhat.
For the past few years the job situation has been difficult because of the economic downturn and because many companies, Chinese and foreign, considered many fresh graduates simply too inexperienced and having unrealistically high expectations.
Jobless college graduates is a big story in a country that turned out 6.3 million of them in June. Many graduates stopped looking and lived on their parents, went to graduate school, took low-paying jobs, started small businesses or went overseas.
It's too soon to predict a turnaround but there are positive signs.
Companies are coming back after the downturn and looking for the cream of the campus crop, despite their lack of experience.
This is also the first year that campus recruiters have started to target the so-called post-1990s generation, a group that is very media- and digital-savvy and open-minded. Companies are using creative online strategies to get exposure and attract applicants. Students are doing the same to attract attention from potential employers.
In a Web 2.0 world where virtual and real lives are mixed, regular on-site campus presentation and standard online applications are losing their appeal. BBS, blogs, Twitter, e-magazines and online games are used to attract applicants.
Dong Yijing, a senior psychology major at Fudan University, has been busy attending campus recruitment presentations. Her day starts by checking dates and venues for campus presentations on the university's BBS bulletin board and browsing job information at yingjiesheng.com, a local job website for students. Then she makes plans.
"Anticipation, tension and eagerness are all part of job-seeking. Thanks to the Internet, all you have to do is be good at selecting information," Dong says.
"My dream job is in marketing, so I'm mostly interested in FMCG (fast-moving consumer goods) industries," says Dong who shares her experience and useful information on the school's BBS and her own blog.
She has been to a lot of recruiting events and says there are three kinds: those employing celebrities as hosts to draw students; those that are like professional, pre-work training; and those that offer job-hunting strategies and teach interviewing skills.
"Different styles all bring out different company cultures and give you new information and a better sense of the company," she observes, adding that what she really wants to know is exactly what kind of person the company wants.
What she mostly sees are formal presentations about companies and their cultures, usually involving one speaker after another in very scripted settings.
But she has found an interesting online interactive business game, "Reveal," that tests abilities and helps players understand what a career in a particular field would be like.
Dong has spent three hours a day for three consecutive days playing the game developed by an international cosmetics company in which players assume the role of management trainees who have just arrived and are pulled into an adventure involving cosmetics and innovation.
"Through the game, I'm exposed to five fields: research and development, business development, industry and supply chain, finance and marketing," Dong says.
Exercises involve particular situations typical to the company. "My talents tackling company culture are revealed and when the game is over, I get a personalized evaluation and can send my resume to the company," she says.