Chinese cyber buzzword "geili" - which describes something as "cool," "awesome" or "exciting" - has received the "official seal of approval" with an appearance in the official newspaper of the Communist Party of China.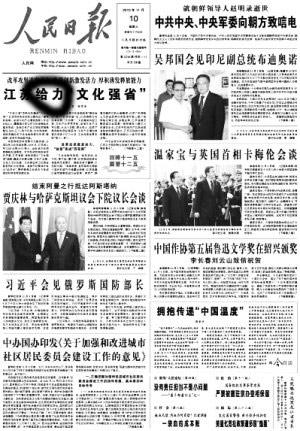 Chinese character "Geili" appeared in a headline on the front page of People's Daily, which is marked by a black circle.
This is the latest episode in the ever-increasing popularity of this completely new word which has also been given English and French translations by web users and a negative form in a manga animation.
"Geili" featured in a headline on the front page of People's Daily on Wednesday. While the meaning was slightly different, in the newspaper it meant "empower," millions of netizens were delighted and surprised to see it used by the Party newspaper.
Online jargon is usually considered too casual for standard written language, and is thus excluded from language guidelines.
"Geili" is created from two Chinese characters "gei" and "li." Literally, it means "giving power," but is now widely accepted as an adjective describing something that's "cool."
A test of a Chinese jargon word's trendiness is if users translate it into a foreign language, according to its pronunciation. "Geili" has been transformed into the English-sounding "gelivable," and "ungelivable," and the French "très guélile."
But it was the word's antonym "bugeili" - meaning dull or boring - that first grabbed wider public attention after it appeared online in May in an episode of a Chinese-dubbed Japanese comic animation.
In another twist in the word's linguistic evolution, Life Weekly, a Shanghai-based magazine, posted a word "ungelivable" - referring to bugeili - last weekend on its official micro-blog at sina.com.
This was regarded as a stroke of genius by netizens, who praised the word for containing "un" as a negative prefix, "able" as a suffix for an adjective, and all with the sound of "geili" in the middle. And, of course, the pronunciation is close to "unbelievable."
"très guélile" - which translates as "so geili and so cool," - was also coined very recently. It has the added advantage of pronunciation that is almost identical to the Chinese.
China's language usage guidelines, however, have banned the appearance of Internet buzzwords in formal written language, including textbooks.
Linguists, however, seem more tolerant. "These words are interesting and fun but it's unclear how long they will remain in use," said Pan Wenguo, a linguist in East China Normal University. "We'll see if the word can survive after it's out of fashion."
Hao Mingjian, editor of a linguistic magazine, seemed pretty positive about words created online.
"The Internet has many positive effects on language," Hao said. "Web users are able to find new words and give other words new lives."
How words spread has also been changed by the Internet, said Hao.
"We used to learn new words from TV shows in the old days, but now we read them first online and then see them on TV," Hao said.