Tongling, a city in southern Anhui Province, is striving to make its copper industry an engine of growth and the envy of the world.
Copper may not be a particularly interesting metal for most people, but the city of Tongling in Anhui Province is striving to make itself the world's copper capital.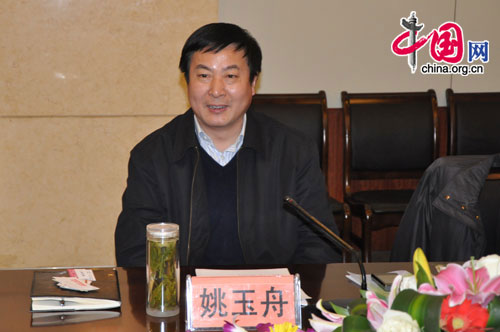 Yao Yuzhou, the secretary of the CPC Tongling Municipal Committee, Anhui Province.
"We aim to build Tongling into the copper city of the world, which incorporates smelting, deep processing, trade, research all for the development of copper," said Yao Yuzhou, the secretary of the CPC Tongling Municipal Committee.
The focus on copper has been included in the city's 12th Five Year Plan (2011-2015); however, the city's present copper industry chain, which focuses on smelting and rough processing, is rather short, Yao said.
But increasingly the world needs much more copper. As currently estimated, the international demand for refined copper will double by 2025, with the yearly average growth at more than 4 percent. For China, the demand will be even greater – perhaps twice the world's average growth by 2020.
In 2009, Tongling produced 570,000 tons of electrolytic copper, among which only 240,000 tons were locally consumed and the other 330,000 tons were directly sold outside the city.
"That's a pity! It's urgent for us to lengthen the industrial chain by enlarging the scale of present copper enterprises as well as speeding up industrial relocation from China's eastern cities and even abroad," Yao said. "If 70 to 90 percent of what we have produced could be locally consumed, that means more high-value-added copper products in Tongling."
According to Yao, Tongling Nonferrous Metals Group, China's second biggest copper producer and the second largest industrial enterprise in Anhui, had primary business revenue of 66.6 billion yuan in 2010, slightly less that that of Masteel (68.8 billion yuan).
"To target the copper industry, we will strive to promote it as the first enterprise in Anhui Province whose primary business revenue will reach 100 billion yuan by 2012," Yao said.