Chinese entrepreneur and philanthropist Cao Dewang has donated 200 million yuan (30.4 million U.S. dollars) to nearly 100,000 impoverished farmers in western China, the Guangzhou Daily reports.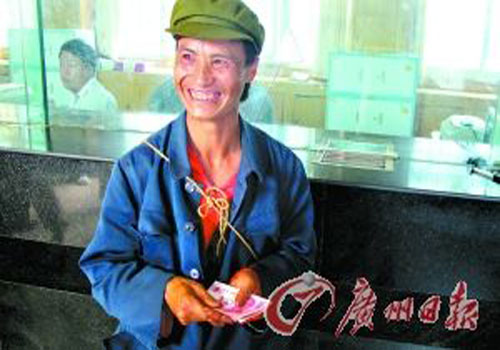 This photo taken on Wednesday, March 9, 2011, shows an impoverished farmer who has benefited from the charity donation made by entrepreneur and philanthropist Cao Dewang. [Photo: Guangzhou Daily]
Cao gave the money to the China Foundation for Poverty Alleviation (CFPA) last year. It is the largest single private donation in the nation's history.
But the strict conditions that came with the donation are making it difficult for the CFPA to distribute the funds, the report said.
To ensure the donation would be successfully granted, Cao signed an agreement with the CFPA based on three conditions: The CFPA had to distribute the funds within six months; the margin of error in distribution had to be less than 1 percent; and the administrative fee the CFPA received would be limited to 3 percent of the total donation amount.
The "Regulations on Foundation Administration" states the highest administration fee for such donations can be 10 percent of the donated amount. But Cao gave only 6 million yuan ($913,200) to the CFPA as the administrator of the funds. Those who work for the CFPA operate under difficult conditions with most volunteers living in hostels that only cost 15 yuan ($2) per day. As they cannot afford to rent cars, they must walk through mountainous areas to distribute the funds to farmers.
He Daofeng, Vice President of the CFPA, says the handling of Cao's donation will help organizations build accountability systems and promote transparency in charity contributions.