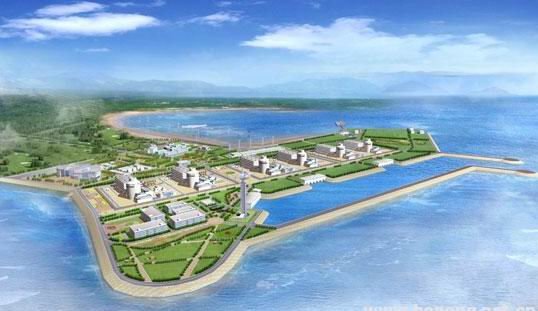 As the public fiercely debates the safety of traditional nuclear power plant technology, construction work on a power plant using domestically developed, fourth generation technology will begin soon in Rongcheng City, Shandong Province.
The project will be unaffected by Wednesday's suspension of new nuclear power plant project approvals because it gained approved prior to the State Council's decision to impose a moratorium.
Fully Chinese R&D
In an exclusive interview with the China Business News, Mu Zhanying, president of China Nuclear Engineering Group (CNEG) Co., said construction of the Rongcheng plant would begin by the end of March or early April.
China Nuclear Engineering Group Co. is China's sole nuclear power construction contractor.
The plant will use new technology researched and developed entirely in China. The whole project including scientific research will cost 5 billion yuan. Construction is scheduled to take four years.
The Rongcheng Shidaowan Nuclear Power Plant is China's first high temperature gas-cooled reactor power plant. Huaneng Group, CNEG, and Tsinghua University will invest 47.5 percent, 32.5 percent and 20 percent of the project's capital, respectively. The three organizations will cooperate to build and run the facility, which will have a total installed capacity of 4 million kilowatts.
At present, the vast majority of nuclear power plants operating globally still uses second generation or improved second generation technology. For example, Japan's Fukushima nuclear power plant uses second generation technology. Third generation technology, such as American firm Westinghouse's AP1000 reactor and French firm Areva's EPR reactor, is currently expanding commercially. The nuclear power plants China is operating and building now use this technology.
Both second and third generation plants use thermal reactor technology. The vast majority of these plants specifically use pressurized water reactors (PWR). Comparing the two, there are no substantial differences, except that third generation technology is somewhat safer and advanced than second generation methods.
The fourth generation technology was developed entirely in China. In 2003, Tsinghua University designed, built and began operating an experimental 10,000 kilowatt high temperature gas-cooled reactor, achieving full capacity operating and supplying power to the grid. It was China's first experimental modulized pebble bed high temperature gas-cooled reactor plant.