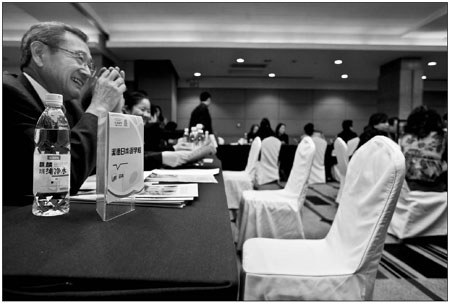 The chair at a counseling desk offering information about studying in Japan remains empty in an international education exhibition tour in Shanghai on March 18. [Photo: China Daily]
Many Chinese students are putting their overseas study plans on hold to avoid possible radioactive contamination from the recent nuclear emergency in Japan.
"I'm not clear about the consequences of Japan's radioactive contamination so I'm considering other options at the moment," said 22-year-old Xu Lu, a senior year student of mathematics at Peking University, who received an enrollment notice from the University of Tokyo before the emergency.
"My tutor at the University of Tokyo is at the top of the field," he said. "I'll definitely choose Japan if there's no nuclear emergency."
Xu said that he is not sure about the long-term effects of radioactive contamination around Tokyo.
"I'm collecting information from my friends in Japan as well as from the media," he said. "I have several friends who recently came back from Japan, but they haven't decided whether to go back again or stay in China."
During the 16th China International Education Exhibition Tour in Shanghai on March 19, several universities in Tokyo stated they were far from the earthquake-stricken areas, local media reported.
They hoped to reduce the anxiety and attract more Chinese students to study in Japan.