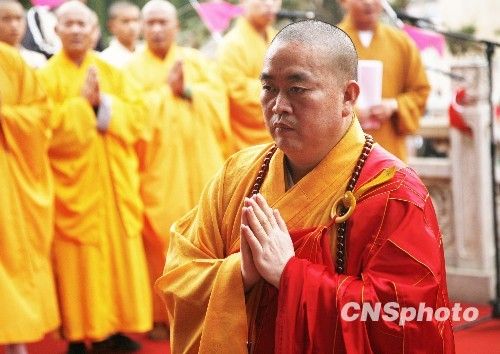 Shi Yongxin, the annot of Shaolin Temple.[File photo]
Shaolin Temple yesterday rejected online rumors that its abbot was caught by police visiting prostitutes.
The Buddhist temple, which is famed for its links to China's martial arts, said the rumors about Abbot Shi Yongxin were a vicious libel and that it retains the right to take legal action.
The stories hurt the feelings of Buddhists and seriously tarnished the reputation of the abbot, according to a statement the temple posted on its website, China News Service reported yesterday.
Shaolin Temple and the abbot felt deep regret about the claims and retain the right to hold the person legally responsible, the statement said.
Rumors have been circulating online that Shi was caught paying for sex in central China's Henan Province, where the temple is located, during a police raid to crack down on prostitution.
According to the rumors, Shaolin Temple said it heard about the incident before but didn't say whether it was true. It was also claimed the temple later explained that Shi was performing a Buddhist service for the prostitute, rather than having sex with her.
Shi, the temple's 30th abbot, was previously mired in controversy for vigorously promoting commercial development of the ancient temple. He initiated the opening of a Shaolin pharmacy and monks have visited many countries to perform kung fu shows.
The abbot says he uses these activities to spread Buddhist culture and revitalize the monastery.
Shaolin Temple was built in the fifth century and nestles in the Songshan Mountain in Dengfeng City.