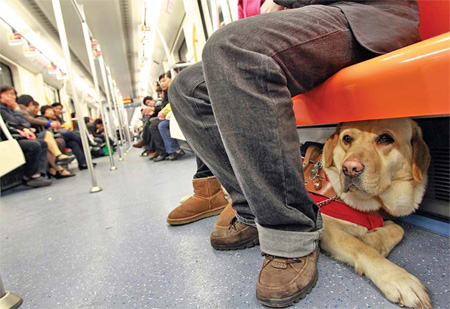 The 2-year-old guide dog Yile sits under a chair in a subway train in Shanghai on March 27. For the 26-year-old Xie Danling, a blind woman in the city, the Labrador retriever has become an indispensable member of her family. 
Come Sunday, dog owners in this city will have to abide by a new regulation on dog management.
"The regulation is not only aimed at encouraging dog owners to conduct themselves well while raising pets but also elaborates on their legal obligations," Ding Wei, the leader of the panel that drew up the new rule, said during an online discussion held by the Shanghai Municipal People's Congress on Monday.
The new regulation establishes the punishments that will be imposed on pet owners who break the rules.
It also mandates that dogs be leashed at all times when they are in public places and that the length of the leash they get attached to be no longer than 2 meters. Anyone who fails to leash a dog correctly or to clean up its excrement will receive a fine of up to 200 yuan (US$31).
"I'm quite satisfied with the new law, which reminds dog owners to be responsible for their dog and to avoid damaging public places or affecting others' lives," said Tang Jinyao, a 28-year-old man who owns a Pomeranian in Shanghai.
The new regulation also stipulates that owners who abuse or abandon dogs will receive a fine of 500 yuan to 2,000 yuan and will not be allowed to apply for another pet license for five years.
"I completely agree with the plan to impose punishments for abuse and abandonment," said Huo Xiaohua, a female resident who has owned a toy poodle for three years.
"But I think it will be very hard to prove whether a dog has been abused or abandoned by an owner or not."
The regulation also places fines of 5,000 yuan to 50,000 yuan on the owners of dogs that endanger public safety or disturb the lives of others.
"Compared with many other regulations concerning pet ownership, this one imposes much tougher fines on dog owners," said Ding.
For residents without pets, the regulation may bring a sense of increased safety.
"The regulation will obviously help us elderly folks who are scared by dogs, especially those big ones running in the parks or on the streets," said Dong Qi, a 67-year-old female resident.