Twenty-two-year-old factory worker Lai Lingling never expected, when she graduated from a junior college in Jiangxi province last year, that she might end up being a student at one of the nation's most prestigious universities.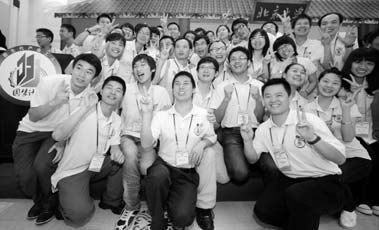 Migrant workers studying for a degree from Peking University celebrate at the launch ceremony in Guangzhou on Sunday.
But the door of opportunity opened for the Foshan city resident on Sunday when she started to receive instruction from Peking University, thanks to a project jointly launched by the Guangdong provincial committee of the Communist Youth League of China and the elite university.
And Lai will not have to leave her job at a ceramics factory in the Pearl River Delta region to benefit.
"The further learning is of great importance for self-improvement," Lai told China Daily as she rode the bus home from work and prepared for the day's online lesson.
Lai is among 100 migrant workers in the province who will participate in the project. They will get the chance to spend anywhere between two-and-a-half years and five years on completing their bachelor's degrees through online distance learning.
The participants got to pick a major from among 12 options offered by the School of Distance Learning of Peking University. Subjects include law, Chinese language, information technology and economics.
The online classes began on Sunday and lessons will be offered both via the Internet and through face-to-face teaching.
Each of the migrant workers will have access to two teachers from Peking University and be able to work with a mentor selected from among the university's students.
Zhou Qifeng, president of Peking University, said the project is aimed at helping migrant workers develop the skills they will need to support the industrial development of Guangdong province, which is one of South China's major economic hubs.
Guangdong, which had about 25 million migrant workers in 2010, is currently going through changes after three decades of development that was based on labor-intensive industries.
Liu Qiongfan, one of the migrant workers taking part in the project, said the chance to participate in further education shows that the government is taking better care of China's migrant workers.
"The education provides us with a platform to improve ourselves," said Liu, a worker at a printing factory in Jiangmen in the province.
Liu said more than 200 workers at the factory applied to study through the initiative.
"I was lucky and I am very thankful."
Chen Dong, head of the provincial committee of the Communist Youth League of China, said more migrant workers in the province will receive higher educations in the years to come.
A number of top Guangdong-based universities, including Guangdong University of Foreign Studies, South China Normal University, Sun Yat-sen University and South China University of Technology, will also join the project, according to Chen.