To Arseny Kaifel, a 23-year-old German national and student of Chinese at the University of International Business and Economics (UIBE) in Beijing, writing and recording a love song entirely in Chinese was simply a way to express the many beautiful memories he has built up over his time here – not a way to get famous.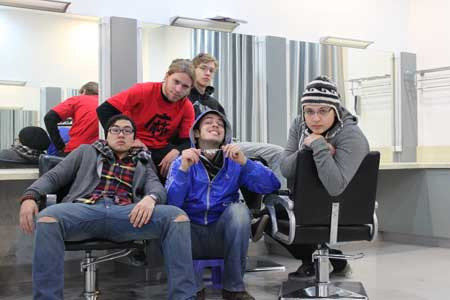 Arseny Kaifel (first from right) and his fellow band members.
Yet after his 3.5-minute video, entitled "Beijing Love Song," was uploaded onto youku.com, a popular Chinese video-sharing website, it's been viewed by nearly 900,000 visitors, many of whom expressed their admiration for the foreigner who sings his heart out.
Performed by Kaifel's band Feichang Fresh and shot in November, the video mentions many famous places in Beijing, including Houhai Lake and Workers' Stadium, famous food including roasted Peking duck and Yanjing Beer, and such Beijing-dialect slang as niubi (awesome) and bei'er liaobuqi (so amazing).
"I'm full of excitement towards this city…Yangrouchuanr (lamb kebab) is my old companion…Peking Duck, let's have one more piece…
Yanjing Beer is the best/ My life here is pretty happy/ At Houhai, I have a lot of fun/ At the Beijing Workers Stadium we all feel so fly…I really can't bear to leave," Kaifel sings enthusiastically.
"The lyrics express our true feeling about Beijing," Kaifel told the Global Times. "It's a place I've never gotten sick of – on the contrary, the longer we stay, the newer and more exciting it gets."
Sudden fame
The story of Kaifel and his four bandmates, hailing from Germany, France and the US, could be that of any number of young international expats in Beijing lately, from students to English teachers, though most might not think to immortalize the bustling scenes of Houhai, Nanluoguxiang, the Workers' Stadium and other hip destinations in song.
Still, the attention the song has received has been entirely unexpected, especially considering it was Feichang Fresh's very first song and only took about one hour to write, Kaifel admitted.
"I never felt like this song would reach this level," he said. "We were practically joking around when writing it – maybe that's why it sounds so relaxed and fun."
Yet Kaifel's schedule since the song caught fire online has been anything but relaxed, considering the number of invitations to perform on entertainment shows across the country he's fielded. Among other notable appearances, "Beijing Love Song" has found its way onto Beijing TV's Spring Festival Gala, Hunan TV's Glee Sunday program and Let Dreams Fly, a youku.com-organized showcase.
Encouraged by their success, the band has since produced three other Chinese songs, all just as fun and cheeky as their first hit:
"Shorty, Come Here (Meinü, Guolai)," "Little Cutie (Xiao Ke'ai)" and "Wish You Wealthy (Gongxi Facai)." All the songs were written by Kaifel and polished by his Chinese friends.
Pathway to a career
Such early success has inspired Kaifel to pursue a career as a music-video director and filmmaker, and he's currently hard at work on Crosswalk to Your Dreams (Mengxianglu Zhi Banmaxian), a short film that he and his friends financed with 20,000 yuan ($3,080) they saved from part-time jobs.
The film tells a story about three young men, two Americans and one Chinese, who pursue their dreams of making music in Beijing, according to Kaifel.
"The film talks about the risks involved in pursuing one's goals," Kaifel said. "The three main characters are simply trying to prove to the world that they can succeed in something they love to do."
Born in Berlin, Germany to two musician parents, Kaifel said he was encouraged to branch out into other subjects so as to avoid the unsteady and risky life of a musician. Choosing Chinese as his major at Free University of Berlin in 2008, he won a scholarship last summer to study at UIBE for one year, marking his fifth trip to China.
"The first time I came in 2006, I grew infatuated; the second time, I fell in love; now, I'm positively obsessed," he said. "Though my current scholarship is up in August, I'm sure I won't be able to stay away for long."
"Beijing Love Song" can be viewed at http://v.youku.com/v_show/id_XMjY5MTU3NDUy.html