Statistics show more Chinese teen girls are getting pregnant due to a lack of sex education, yet many schools and teachers feel such a course in unnecessary.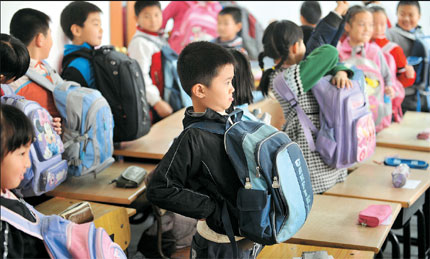 Pupils at a Beijing primary school learn how their mothers experienced during the 10- month pregnancy in a sex education class.
Zhang Zhengrong from Shanghai 411 Hospital is much busier than usual these days. She operates Shanghai's only hotline, 6587-6866, for pregnant girls.
The summer is busy as teens are out of school and have more time to be sexually active.
"We are usually busiest two to three months after the summer vacation and other festivals such as Valentine's Day. Sometimes we receive almost 1,000 phone calls a day from teenagers," says Zhang, director of the hotline, who has worked in the field of obstetrics and gynecology for over 20 years.
She says it's clear that sex education needs to be introduced in local schools as teenage callers frequently ask questions like: "Will I get pregnant if my boyfriend kisses me?" "Can I have another abortion after only one month?" and "Am I a bad girl/boy if I masturbate often?" The hotline director says she knows one girl who has had 13 abortions and another who was only 13 years old when she got pregnant.
The hotline provides free consultation about sex, safe intercourse, pregnancy and self-protection skills. Hotline operators also arrange free abortions for teen girls.
The hotline started in 2006 and has since received more than 50,000 calls, helping almost 4,000 pregnant girls get an abortion.
Zhang says she is worried because the number of girls getting pregnant has soared in recent years. According to the call center, of the girls they have helped get an abortion, 10 percent have had two abortions while another 3 percent have had more than three abortions.
Another three percent have either taken an abortion pill or had an abortion at an unlicensed clinic. Zhang says going to unlicensed clinics raises the risk of damage to a girl's reproductive system.
"In most cases these teen girls are having unprotected sex," Zhang says.
Despite this alarming trend, Zhang says she is more upset about the attitude some of these girls have toward early sexual relationships and abortion.
She says she and her colleagues conducted a poll of callers and found that more than 30 percent of the pregnant girls think abortion is "nothing serious."
Another 50 percent had an extremely calm attitude about abortion, which is unusual for girls at that age. She says only 20 percent expressed "normal" emotions such as fear and worry about getting pregnant.
Zhang says another alarming trend is that girls are getting pregnant at a younger age. Five years ago, the majority were late teens in the senior year of high school or in the first year of college, but now middle school girls of 14 and 15 account for most of the teens getting abortions.
"Sometimes I just don't know how to communicate with them," Zhang says. "I tell them that they might be infected with venereal diseases and need further checks, but they say, 'I don't care. Just get rid of the baby'."
The doctors says it's as if the girls don't care about their health at all and they think everything will be fine after the abortion.
"I'm horrified at the lack of proper sex education, which should be taught at school and by their parents at home," she says.
Unfortunately, talking about sex is often taboo in China. Parents often feel too embarrassed to talk about it and also feel they are, in a way, protecting their children. These parents essentially think "if my child doesn't know about sex, he or she won't worry about it."
However, the lack of sex education has led to some shocking stories.
Two years ago a father in Shanghai rushed his 19-year-old daughter to a hospital after she had given birth to a baby at home. In order not to be discovered by her parents, the young woman secretly delivered the baby herself in the toilet. Then she put the baby in a plastic bag and threw it in a neighborhood garbage can.
The father saw the blood and questioned his daughter. After learning the truth he ran to the garbage can only to find the baby was already dead.
"The father couldn't believe it and told me his daughter was a good student, hard-working at school and obedient at home," Zhang says. "The careless parents didn't know she was pregnant until she gave birth!"
Such cases are not unique to Shanghai. Last year, a 13-year-old girl in Jiangxi Province gave birth to a dead infant in a public toilet. The parents called the police and the girl admitted she was forced to have sex with a 60-year-old man.
A 14-year-old girl in Wuhan, Hubei Province, gave birth to a baby in May. Her 18-year-old boyfriend was sentenced to five years in jail for statutory rape.
"I think it's time to launch a compulsory sex education course in the schools," says Zhang, who also believes parents and neighborhood committees should take a more active role in teaching teens about sex.
However, most schools and parents resist the idea.
Xu Zhanlin, headmaster of Shanghai Zhongguo (China) High School in Xuhui District, says a sex education course is unnecessary for a variety of reasons.
"First, the current Chinese educational system doesn't have a position for sex education teachers. This means no post no salary. Second, we are already teaching sex eduction," Xu says. "We have a physiological health class and a psychological consulting room for our teenage students. With the joint efforts of our biology teachers, school counselors and mental health instructors, I don't think it's necessary to launch a sex education lesson."
However, sexologist Peng Xiaohui from Central China Normal University says the current physiological health class "is just a biology class, not a sex education class."
Dai Yaohong, office director of the Teacher Training Institution in Shanghai's Yangpu District, also feels that a sex education class is unnecessary.
"If it was 30 years ago, it would be a topic that needed to be discussed," she says. "But today it is a matter of how we do it. Frankly speaking, our teachers are doing it very well."
She says many schools in Shanghai have set up consulting rooms for teenagers and professional mental health instructors help students solve various adolescent concerns about things like puppy love, boy's ejaculation and girl's menstruation.
Meanwhile, most parents think their kids are too young to learn about sex at school.
"Kids will learn naturally after they grow up; sex education at an early age will lead them down the wrong path," a parent surnamed Wang says.
Luo Hongkun, a 28-year-old engineer in the auto industry, also thinks children can learn about sex themselves.
"When I was a student, we didn't have sex education," he says. "Boys found their own ways to learn about sex and I guess girls were pretty much the same. It's human nature. There's no need to make a big fuss about it."
However, sexologist Peng strongly disagrees. "It is dangerous for teenagers to learn about sex on their own," he says. "Without correct and proper guidance, it can lead to sexual crimes."
Lu Yiqing, a senior student at Shanghai Tongji University, agrees with Peng.
"Boys and girls are usually separated to have the class. The teacher skips the key parts that students are interested in most, such as sexual intercourse," she says.
Peng says he once attended a demonstration physiological health class in Wuhan. "The teacher, to my great surprise, told the students that virginity was more precious than one's life. I just couldn't believe it.
"Everyone is born with sexual curiosity and this is human nature. Schools and parents should work together to guide this curiosity correctly, instead of killing or curbing it," Peng says.
Meanwhile, Zhang says more girls will be seeking abortions because they simply don't know how to protect themselves.
"An abortion can be very harmful to a girl's body," she says. "Though they may not care now, they will regret it deeply one day when they grow up."