Chinese police have arrested 32 suspects for producing and selling illegal cooking oil in a cross-province crackdown, Xinhua reported Tuesday.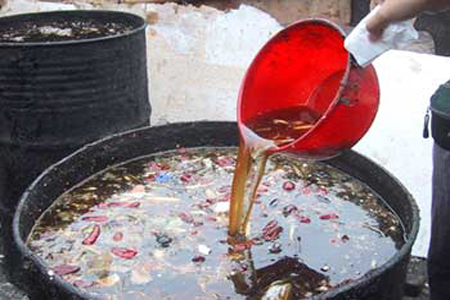 The "illegal cooking oil" is usually made from discarded kitchen waste that has been refined.[File photo]
According to a statement by the Ministry of Public Security, more than 100 tonnes of such oil, made from leftovers dredged from gutters behind restaurants, were seized after busting a criminal network spanning 14 provinces.
Police began their investigation in March after residents in Ninghai County of eastern Zhejiang Province reported that a group of people were buying leftover oil from local restaurants.
The cross-province crackdown was launched in mid-July,when police from Zhejiang, Shandong and Henan jointly removed six underground producing sites and uncovered two illegal-production lines in the provinces, the ministry said.
The ministry pledged it will eliminate the illegal cooking oil market in the statement.