Woman at the center of Red Cross luxury picture outrage has learned hard lessons. Guo Meimei, a young woman whose online displays of luxury severely damaged the credibility of the Red Cross Society of China, said her experiences in the past three months have caused her to "grow up five years".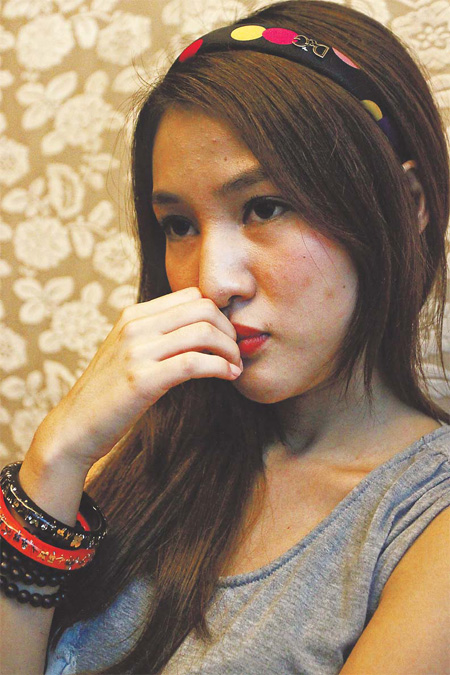 Twenty-year-old Guo Meimei, who sparked a national scandal about the Red Cross Society of China, sat for an interview with China Daily in a teahouse in Chaoyang district of Beijing on Sept 14. 
During an interview on Wednesday, the 20-year-old adjusted her bangs while looking at a live image of herself on her mobile phone and said she was "ignorance personified, with no interest in school and a love of luxury".
Despite her admission of immaturity, Guo has learned a hard lesson: all actions have consequences.
In early June, Guo bragged on her micro blog about her wealth, and claimed that she was "the manager of the Red Cross Chamber of Commerce", a post she in fact fabricated.
Netizens suspected that money given to the Red Cross Society of China had gone to keep staff members in the lap of luxury.
In response, some people stopped donating to charities in general and donations to some Red Cross branches reportedly dropped by 90 percent.
There is no doubt that Guo has been chastened by her experience. Whenever her name or image appears online, it provokes an outpouring of invectives.
Guo said that the animosity she has stirred up even led to thoughts of suicide.
"I feel like I am an enemy of the state," Guo said on Wednesday. "The truth is that I am just a stupid girl who did something really stupid. No matter what I say, no one wants to believe me. No matter what I do, nobody wants to forgive me. I didn't break the law in any way. Would these people be happy if I died?"
Despite her boasts of wealth, Guo dresses just like any other 20-year-old who takes a fancy to fashion, wearing black high-heels and tight, torn pants. She said she had grown up spoiled by her single mother and aunts, who had let her have whatever she had wanted.
Careful what you wish
While traveling in Thailand just before she turned 18, she made three wishes. All of them, she said, came true.
Her first was to have a car when she reached adulthood. On her 18th birthday, her mother gave her a red BMW Mini Cooper as a birthday present (see picture).
Her second was to have 5 million yuan ($782,000) to her name before she turned 20. Now she owns two cars that are together worth nearly 3 million yuan, which, combined with her other sources of income, mean she has exceeded her goal.
Her wish last was to be famous. That, too, she has achieved.
"But trust me, it's not the way I wanted it to be," said Guo, who has already acted in some small TV roles.
In late June, millions of netizens began disseminating photos of Guo showing off her Hermes bags and her 2.4-million-yuan Maserati.
Thus began a massive "campaign" against the Red Cross Society of China, one that has subsequently brought many other philanthropies under suspicion.
According to the China Charity and Donation Information Center, Chinese charities in July saw the amount of donations they received fall by about 90 percent below what they had been in the previous month.
Guo said she was only the spark that ignited the public's long-held suspicions about the Red Cross Society of China. "A police probe has proved that I have nothing to do with the Chinese Red Cross," she said. "I think people just want to see some corrupt officials get fired. And they would be (fired) if there were any."
Several experts, meanwhile, said Guo is being attacked more because of what she represents in the public's mind than what she has done.
"Guo herself may not be immoral," said Hu Xingdou, an economics professor at the Beijing Institute of Technology. "The public is merely directing its anger against corrupt officials or the wealthy at her. So she has become a 'punching bag' that people beat to let out their anger."
He said Guo's case will result in changes for the good since it will push charities in China to accept more public supervision.
"Like many large State-owned enterprises, large charities in China have difficulties with being inefficient and expensive," said Hu. "All of this attention will help them to change."
Shi Zengzhi, a professor at Peking University's school of journalism and communication, likewise thought Guo was merely being used as a representative of something the public really distrusts.
"Many girls like to brag about their wealth," she said. "And none of them has attracted this much attention. Guo did, though, because she claimed an affiliation with China's Red Cross. This is really about the public's lack of trust toward charities."