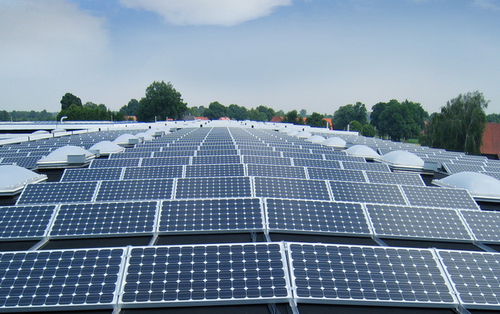 China's Ministry of Commerce (MOC) expressed its "deep concerns" on Saturday on a preliminary ruling made by the U.S. International Trade Commission (ITC) that U.S. solar panel industry are harmed by Chinese companies.
The ruling which was made without sufficient evidence shows that U.S. solar panel industry has been harmed and regardless of defense opinions from Chinese enterprises as well as opposition from the U.S. domestic industries and other stakeholders, the commission said in a statement.
"China is deeply concerned about the decision, which does not tally with facts and highlights the United States' strong tendency for trade protectionism," the statement said.
It said China hopes that the U.S. side will objectively analyze the reason why some of U.S. solar panel firms lack competitiveness.
"The United States should avoid abusing trade remedies which will affect bilateral trade and mutually beneficial cooperation between China and U.S. enterprises in the new energy sector," the statement said.
MOC spokesman Shen Danyang warned last month that the probe could damage energy cooperation between the two countries and impede the progress of global efforts to deal with climate change.
The ITC voted 6-0 on Friday that there was a reasonable indication that SolarWorld Industries America and other U.S. producers have been harmed or are threatened with injury by solar panel and module imports from China.
The vote allows the U.S. Department of Commerce (DOC) to continue an investigation that could lead to both countervailing and anti-dumping duties on solar panels and modules from China.
The DOC will make preliminary decisions regarding anti-subsidy and anti-dumping measures in January and February 2012, respectively.
Fourteen Chinese solar panel producers, including Suntech Power and Yingli Green Energy, have decided to jointly raise a plea in response to the U.S. probe.
Li Lei, senior lawyer of Sidley Austin LLP and the represent lawyer of China-based solar industries, said Tuesday that ITC is highly unlikely to come to "no harm" conclusions and terminate the investigation in its preliminary ruling.
He said Chinese companies should actively participate the defense against the charges.
Wang Guiqing, vice president of the China Chamber of Commerce for Import and Export of Machinery and Electronic Products, has said that the success of China's photovoltaic industry in the U.S. lies in the advantages it has gained through technological innovation and benefit of scale.
The U.S. anti-dumping and anti-subsidy investigation was just a means of trade protectionism which seek to curtail market shares of Chinese solar panel manufacturers, industry analysts said.
The trade tension comes at a time when the United States is seeking to boost technology exports to revive its economy and cut high unemployment.
Upon an appeal filed by SolarWorld Industries America and six other undisclosed firms, the DOC said on Nov. 8 that it would conduct an investigation to determine whether Chinese firms have been selling solar panels in the United States at unfair discounts and receiving illegal government subsidies.