In the past few years, a new trend has been gaining popularity in China: pregnant women should wear radiation-proof clothes once they have a baby. However, scientists said these suits could be doing more harm than good.
Last Sunday, a CCTV program exposed that these radiation-proof clothes do not protect people from daily doses of radiation. An experiment carried out at a national leading electronic test center showed that the radiation absorption by a person wearing a radiation suit is much higher than a person without one.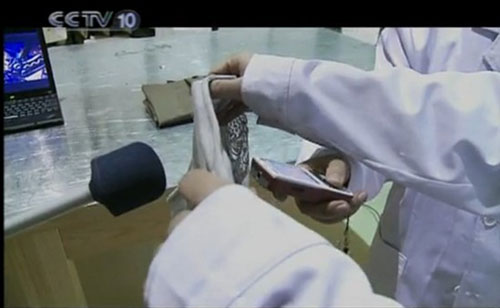 A screen capture of CCTV-10 on December 18 shows an experiment of radiation-proof clothes.
A separate experiment showed that a radiation-proof suit only protects you where you're covered, so radiation can still reach the body via the ends of sleeves, neckline, etc.
The radiation that can squeezes inside the radiation clothes gets trapped inside, accelerating absorption through the skin. Like a greenhouse, the intensity of the radiation underneath the clothes is thus increased as radiation waves bounce back and forth between skin and clothing. Without these radiation clothes, normal skin can actually reflect most radiation away from the body, absorbing only a small amount.
Dr. Chen Qingsong, an expert on electromagnetic radiation at Guangdong Prevision and Treatment Center for Occupational Hygiene, said that electromagnetic radiation that is seen in our daily lives has a very small impact on human health.
"National standards for electromagnetic radiation from home appliances has been set up in 1998 with a top limit of 12 volt/meter, which is far less than a western standard" said Chen. "If a TV, a computer, a micro-wave oven and a hairdryer are turned on at the same time, their combined radiation is still harmless to human health."
Dr. Cheng Aiping at Zhejiang Provincial People's Hospital suggests that people should not use computers or mobile phones for long periods. He also recommends washing one's face after using a computer, and keeping fresh air circulating inside a room. "These measures are far more important than wearing a radiation suit," said Cheng.
Chen Feng, a scientist from a laboratory recommended by the Chinese Academy of Sciences to conduct the experiments, said the garments proved effective in blocking 90 percent of electromagnetic waves coming from in front of the body - from computers, for example - but failed to protect people from radiation from any other direction.
"When the electromagnetic waves get inside the garment from other directions, there would be no outlets for them to be dispersed. You are actually exposed to a higher level of radiation influence (compared to others who don't wear such clothes)," Chen told the TV program.
However, in contrast to these findings, many maternity clothing producers claim their products are able to block 99.99 percent of radiation waves from electronic devices.
Despite decade-long growth and a prosperous market, China currently has no industry standard for such so-called protective clothing.