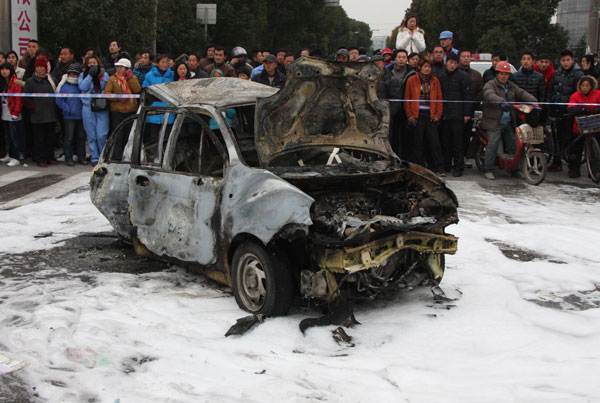 One of the cars wrecked in an accident in Shanghai on Saturday. Two passengers were trapped inside and burned to death on the scene. [Photo: Shanghai Morning Post]
A taxi driver was killed and two other people were burned alive in a pileup caused by an intoxicated driver on Saturday afternoon in suburban Shanghai. The accident happened around 3:50 pm at the juncture of Nanliu Road and Luda Road.
Earlier, the driver surnamed Huang, who was driving a black car registered in Henan province, had a minor accident with a taxi and fled.
The taxi driver caught up with the car and a fight ensued. Then, the taxi driver jumped on to the hood of Huang's car to prevent his escape. Instead of stopping, Huang accelerated and crashed into two cars, according to the accounts given by witnesses.
One of the cars struck by Huang's caught fire, and two people, a woman and a man, in the car were trapped inside, where they burned to death, witnesses said.
The taxi driver, who broke his legs and sustained other severe injuries, was pronounced dead at the scene by paramedics.