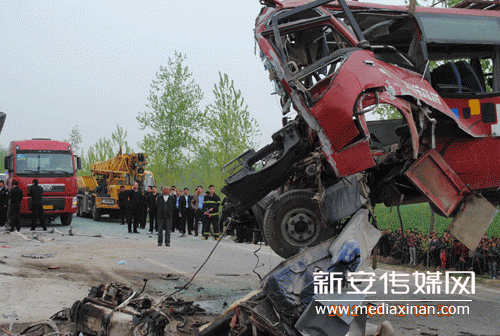 A bus and a sand-hauling truck collided in central China Thursday morning.
A bus and a sand-hauling truck collided in central China Thursday morning, killing at least 24 people.
The crash occurred at around 6:30 a.m. on a section of road near Wangzhai township, Xiaoxian county, in the city of Suzhou, local traffic police said. The fronts of both vehicles were completely smashed, and the bodies of victims were thrown out onto the road, according to witnesses' statements.
Twenty-three people were killed at the scene, while one died on arrival at hospital, local officials said. The only two survivors of the deadly crash, both passengers on the bus, remain hospitalized.
Work crews used a crane to clear the vehicles off the ground.
Initial probe indicate that the bus was not overloaded, but there is suspicion that the truck was overloaded and speeding.
Wang Lixiang, an official with Anhui provincial fire department, said there has been a rise of accidents involving long-haul trucks in recent years, and because these trucks are very heavy, the power of the crash usually make accident scenes extremely ugly.
"Drivers of long-haul trucks are particularly prone to speeding or overloading to generate maximum profits," said Liu Xiaochuan, a local traffic policeman. "Accidents usually occur at night or at dawn when traffic policemen are rotating duty."
A thorough probe into the accident is underway.
Traffic accidents on China's roads result in about 70,000 deaths and 300,000 injuries each year, according to the Ministry of Public Security. Speeding, fatigue, drunk-driving and poor road conditions are usually blamed.