The Ministry of Finance and the Ministry of Education have issued a temporary regulation that requires school cafeterias in rural areas to publish detailed accounts of how government food subsidies for students are spent.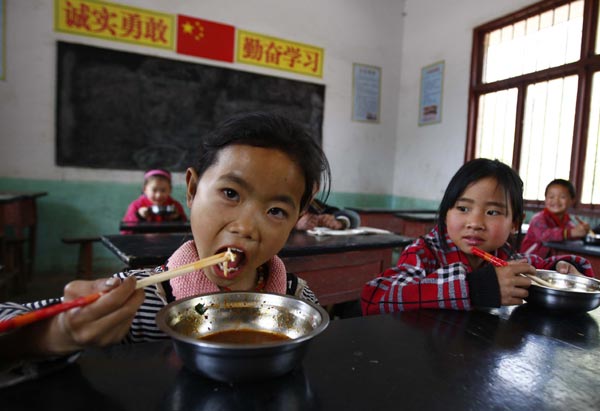 Schoolchildren eat their free lunch at Xinglong Primary School in a mountainous area of Bijie city, in Southwest China's Guizhou province. [ Photo / China Daily ]
Since the autumn 2011 semester, 26 million students in 680 poverty-stricken counties have been subsidized under a project the State Council launched. Nearly 30 percent of students in rural areas of central and western China are covered by the project, which pays 3 yuan (47 cents) a day per person.
A series of incidents involving food supply and quality, including food poisoning, occurred in school cafeterias in the spring semester this year.
In one case, a milk supplier in the Guangxi Zhuang autonomous region was selling milk to a school for 3 yuan a serving while the market price was 2 yuan. The supplier, Guangxi Zhuangzhuang Dairy, explained that the high transportation costs added about 0.8 yuan to the price of each serving.
But under the ministries' new regulation, the entire subsidy must be used for food alone. Education authorities and schools may not use the money to fund teachers' meals or cover transportation costs.
Local governments should shoulder the cost of water, electricity, gas and labor needed to provide the food, the regulation said.
Also, schools must keep detailed accounts of food purchasing and consumption and publish them regularly.
In 2007, the central government banned school fees in rural areas, so schools now depend on government funding.
Local governments pay the teachers and allocate funds to cover many additional expenses, such as training teachers, transportation, maintaining classrooms and buying new facilities.
"My school is funded from 800 to 1,400 yuan a month, depending on school activities, such as Children's Day celebrations. But that is far from enough to run a cafeteria," said Zhang Zhengfu, principal of the Xinhai Primary School in Zhaotong, Yunnan province.
"We rent a truck to go down the mountain to the nearest town to buy fresh vegetables twice a week. One trip costs 120 yuan, so that alone comes to around 1,000 yuan a month," he said.
According to Fan Kaijian, deputy director of the education bureau of Zhaoyang district in Zhaotong, local governments allocate the school funds in accordance with the number of students.
"The ministries' intention to regulate the funds is to ensure the quality of the food delivered to children, but there might still be difficulties to overcome in practice. After all, I can't see it working unless local departments provide more funds to support rural school cafeterias," Fan said.