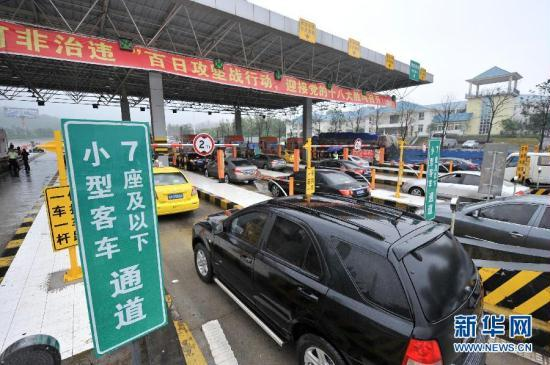 For the first time in decades, Chinese cars can use the country's expressways toll-free, during the Mid-Autumn Festival and National Day holiday. [Xinhua]
The number of travelers taking to China's highways totaled 85 million by 4 p.m. on Sunday, the first day of the eight-day "Golden Week" holiday.
The figure is 13.3 percent more than the equivalent period last year, according to an announcement from the Ministry of Transport.
The surge was partially driven by a new government policy that has made most expressways in the country toll free during the holiday period for passenger cars with fewer than seven seats.
Sunday is the first day of China's eight-day "Golden Week" holiday bridging Mid-Autumn Festival on Sunday and the National Day holiday from Monday to Sunday.
Authorities predict that around 740 million trips will be made by Chinese people during the holiday, with around 660 million trips to be made on roads and waters, averaging 82.5 million trips daily, up 8.8 percent year on year.
China's major expressways have embraced traffic peak from 5 a.m. early Sunday morning, said He Jianzhong, spokesman with the Ministry of Transport.
Traffic snarled at major expressway toll gates across the country on Sunday. The Beijing Traffic Management Bureau reported long queues of cars appearing at 6 a.m. in front of toll gates for all 17 expressways in Beijing, as many outbound passengers hit the road before dawn.
He Jianzhong said the average speed was under 80 km per hour on major expressways as the number of motor vehicles increased 20 percent to 50 percent from ordinary days.
On some road sections, car accidents have caused congestions and slowed the traffic to a speed of less than 20 km per hour, he added.
As of 3 p.m. Sunday, congestions were reported at various sections on 24 expressways in 16 Chinese provinces, due to accidents and sharp increase of cars on road, he said.
In the southern city of Guangzhou, heavy congestion appeared in front of expressway toll gates as early as 10 p.m. on Saturday, when it took 50 minutes for a car to move 1,000 meters.
Zeng Zhaokang, head of the Guangdong Provincial Transport Bureau, said many cars queued to wait for the holiday toll-free policy to come into effect at midnight.
However, no serious traffic accidents or interruptions have been reported.
China's expressway toll fees are among the world's highest.
In the early 1980s, the Chinese government issued the "building highways with loans" policy to finance highway construction. Since then, tolls have become the major source of revenue for repaying these loans.
People have long complained that toll gates cause highway traffic jams during holidays.
The toll-free police has received warm responses from the majority of private car owners, while spurred unprecedented slow highway traffic as well.
Many motorists who were stranded in the endless queues of cars have posted photos on social networking sites such as weibo.com, with one photo showing a motorist using telescopes to overlook the long queue, and another showing two passengers playing tennis on the jammed expressway.
The heavy traffic has caused consternation among many other drivers.
Blogger "Bing-bingliang" posted an entry on Sina Weibo, China's Twitter-like microblogging service, suggesting that the government lift toll fees during ordinary days, and charge fees on holidays to avoid the expressways becoming virtual parking lots during these busy times.