The government is about to demolish rows of shaky residential buildings surrounding a 13th-century landmark in the heart of historic Beijing, officials announced on Thursday.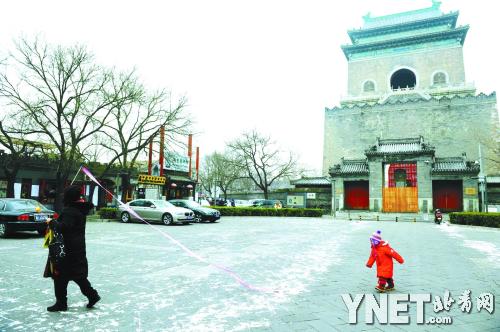 Beijing's Drum and Bell Towers.[File photo]
They said the overhaul is to restore the beauty of Beijing's Drum and Bell Towers, which acted as a signature timepiece for three dynasties since 1272.
The landmark consists of two towers, one housing a huge bell, the other a drum. The bell was struck at dawn, while the drum was beat at sunset to tell the time.
It lies on Beijing's historic central axis, which also holds Tian'anmen Square and the Forbidden City.
The whole Drum and Bell Towers area has shrunk from 14,000 square meters at its origin to less than 4,000 square meters now, as the past four decades have seen the land surrounding the structures eaten into by poorly built, normally one- or two- story courtyard houses, the officials said.
"There are so many shaky homes, all illegally constructed and susceptible to fire," said Jin Hui, a spokesman for the district of Dongcheng, adding that the average living conditions are also poor.
"These constructions lower the people's living standards, affect the outlook of the historic site and pose safety threats. That's why we want the residents there to leave," Jin added, without specifying a time scheme for the project.
Li Guanghui, deputy head of the district government's housing bureau, said 136 families in the area are asked to move. Evacuees will be resettled in newer residential apartments, receive cash compensation, and an additional 170,000-yuan (27,200 U.S. dollars) bonus if they move early.
But demolition in Beijing, especially at or around ancient landmarks, can cause controversy.
In 2007, the face-lift of Qianmen Street, which also lies on the central axis, triggered outcry from preservations fearing that the area might lose its spirit after traditional one-story courtyards, a symbol of old Beijing, were forced to make way for modern architecture.
The street reopened as an up-scale commercial center in Aug. 7, 2008, a day before the Beijing Olympics, with international brand names like Starbucks, Nike, Prada and Rolex occupying shops built in the original style to retain the air of old Beijing.