China's postal authorities have ordered an overhaul of the express delivery sector amid growing concerns over personal information being leaked and traded by workers.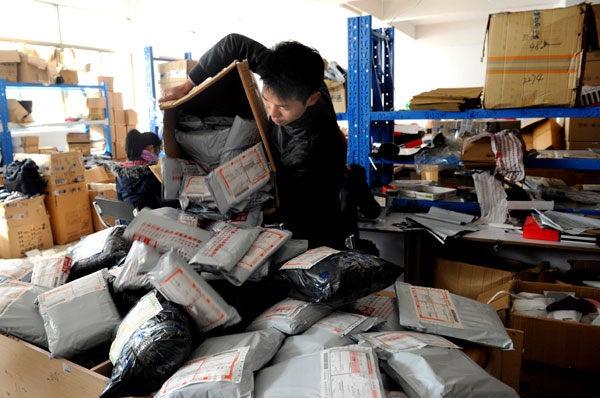 A worker at an online shop in Yiwu, Zhejiang province, sorts out parcels to be delivered this month.[Photo/China Daily]
The State Post Bureau said in a recent statement that delivery companies should ensure user information is well protected throughout their procedures, and that authorities will be conducting spot-checks on firms, focusing specifically on personal information security.
The moves come after various media reports highlighting the reselling by express workers of delivery receipt details, which have increased public concern over the disclosure of personal information.
Liu Jun, deputy chief of the State Post Bureau, said at a conference last week that the national authority plans to build a long-term system of protecting user information in the express delivery sector.
Anyone found guilty of misusing personal information could face legal action.
Liu said companies failing to meet the protection requirements would be suspended from providing service until they have rectified any problems identified.
China's express delivery industry has been boosted by the booming online shopping market, estimated at 806.2 billion yuan ($129.2 billion) in the first three quarters of this year, according to the Ministry of Commerce.
Other figures from the State Administration of Industry and Commerce now suggest there are 210 million online shoppers in the country.
The reselling of package receipts has become big business, said Hong Zhilong, a manager of the Anzhenmen branch of ZTO express in Chaoyang district in Beijing.
"I now know there are companies that gather this kind of information and resell it — I get calls from them all the time," he said.
Hong said delivery workers are required to keep the receipts signed for by customers for a year before handing them to the headquarters of the company.
However, Hong said not all workers obey the rules, and "there were many cases of user information being leaked".
Zhang Guoquan, a manager at the Tianshuiyuan community branch of Shanghai Yunda Express in Beijing, said he also receives phone calls inquiring about sales of receipts and tracking numbers.
"I never even talk with them. I have been in this industry for more than 10 years, and I knew how important reputation is. To me it is a matter of principle," he said.
Meanwhile, another area of the industry causing concern to the authorities is the poor disposal of parcel boxes and receipts, by companies and customers.
In February, a court in Xiamen, Fujian province, sentenced a 24-year-old man to death after he was convicted of killing a woman, who attracted his attention as being wealthy because she had made so many purchases online, which arrived at her home by express delivery.
He noticed the number of parcels she had disposed of at her residential community, and the man had been using the boxes for clues about her wealth.
He then pretended to be an express delivery worker, and when she opened the door he gained entry and killed and then robbed her, according to a report by the People's Court Daily.
In a statement issued by the national postal authority on Dec 10, express delivery users are reminded to remove any receipts from the outside of any parcels and make sure they do not disclose anything about their personal information before throwing them away.