A homeless shelter in central China's Changsha City is under investigation after an undercover reporter claimed he was beaten up after he had been sent there.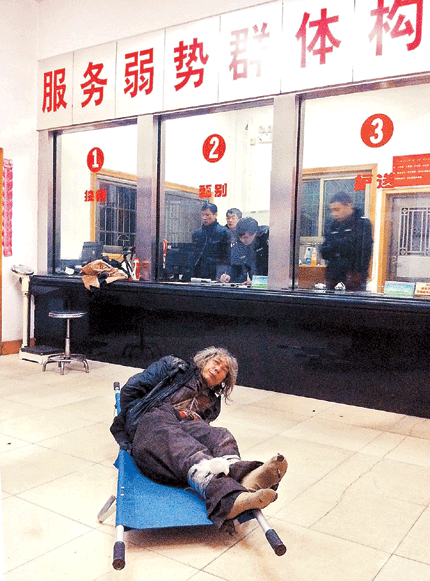 A homeless man, tied up, lies on a stretcher in the reception hall of a shelter center in Changsha on Monday night. An investigative journalist of a Changsha newspaper posing as a vagrant said he was beaten up by staff at the center after being sent there. [Photo/Shanghai Daily]
The reporter, dressed as a homeless man and pretending to be deaf, said three people at the shelter kicked him to the ground, held his hands behind his back, and trampled on his body so hard he could not move or even take a breath, the Changsha-based Sanxiang City Express reported.
He begged them to stop and asked if he could leave but the staff just pressed their knees to the reporter's head and told him: "Want to leave now? It's too late."
The newspaper said its reporter was trying to find out why homeless people would rather stay out in the cold, under bridges or in underground tunnels, rather than go to the warm government shelter.
A homeless man was found frozen to death under a bridge in Changsha last Thursday, only several days after another man was found dead due to the bitter cold in another district in the city.
Despite the tragedies, about 20 homeless people interviewed by the newspaper said they were reluctant to look for help from shelters.
Luan Weidong, a homeless man who has been wandering the streets in Changsha for three years, told the newspaper he didn't go to a shelter because he felt like he was treated as a prisoner there.
"The shelter would eventually send you back to your hometown. But if I can survive in my hometown, why should I lead a vagrant life?" Luan said.
On Monday evening, the reporter borrowed Luan's shabby coat and pretended to be a deaf homeless man. They stood at a crossroads in the city and soon residents passing by called a nearby district shelter service for help.
But it could not be reached after the residents tried to call it around 10 times, the newspaper said. A resident then called the police and they took the reporter to the Changsha Shelter Center.
Staff told the officers they would help the "homeless man," but five minutes after the police left they seemed to change their minds, the newspaper said.
They repeatedly asked the reporter what his name was and where he came from, and kicked him to the ground and beat him when they could not get an answer.
The reporter was not allowed to leave the shelter until he called his father, who negotiated with shelter staff, the newspaper said. The reporter was asked to sign a document saying he had "volunteered" to leave.
Another reporter who came to pick him up said he saw an elderly homeless man lying on a stretcher.
The man's hands were tied behind his back and his legs were also tied. He begged the reporter to release him so he could sit up. Blood was seen on his lips and he said he had been beaten, the newspaper reported.
Changsha civil affairs officials said the results of their investigation into the shelter would be made public soon.