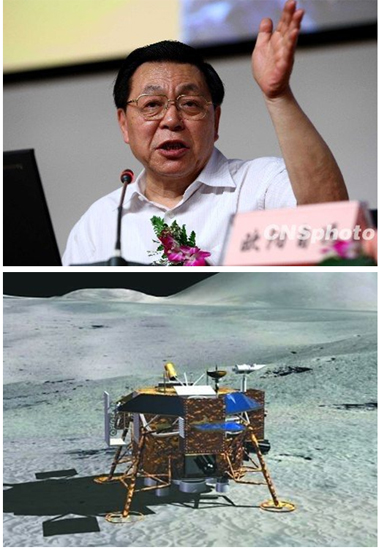 Ouyang Ziyuan, chief scientist in China's lunar probe project, has dismissed the "shortsighted" view held by some on the recent exploration. [CNS photo]
China's first moon rover Yutu (Jade Rabbit) landed on the Moon last weekend, inspiring much acclamation among the Chinese public. Yet some people are having doubts as to whether the mission will turn out to be of any real practical use. Ouyang Ziyuan, chief scientist for the project, has expelled this argument as being "shortsighted," according to a report by China's Southern Metropolis Daily on Dec. 15.
Ouyang explicates how the mission may make use of the Moon's solar energy. "As the sun shines on the Moon for a straight half-month and there are no clouds to reduce the sunshine, there is much more sunshine than there is on the Earth."
Moreover, unlike the densely populated Earth, solar panels can be installed in practically every corner of the Moon, without any hindrance from manmade buildings. Subsequently, the generated electricity will be sent back to Earth via the use of lasers or microwaves, making it the cleanest energy possible.
Seeking natural resources is one of the major missions of China's lunar project. Ouyang explains that Helium-3 fusion energy, a material for controllable nuclear fusion testing, is thought to be buried inside the lunar rocks. Chang'e 1, China's first lunar satellite, already found a storage of at least 1 million tons of Helium-3 on the Moon, which may in turn help generate nuclear energy supporting the Earth for more than 10,000 years to come -- if the technology becomes fully commercialized.
In fact, as China and six more economies are currently building an International Thermonuclear Experimental Reactor (ITER) in France and trying to advance the technology of controllable nuclear fusion, China's ongoing lunar program may actually boost the ITER program.
Ouyang also cites the achievements of the U.S. Apollo program (1963-1972) as to illustrate the significance of any lunar project. Beginning in the 1960s, the U.S. spent US$ 25.4 billion on the Moon's exploration at that time, which has thus far yielded an output worth 14 times the original investment.
The U.S. lunar program also led to the birth of several new hi-tech industries and technologies such as the rocket, radar, radio guidance and so on, which were then put into civil use. All those have helped improve the States' entire industrial landscape.
"Though it called off its lunar exploration after the USSR's defeat in the two's lunar race, the U.S. has been having some regrets ever since 2005 and is now trying to return to the Moon." Ouyang added.