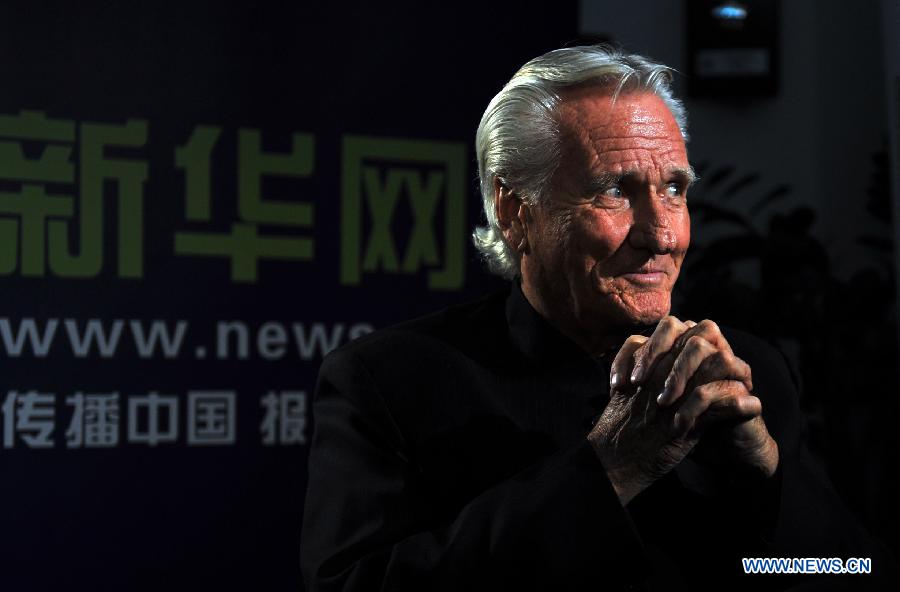 Hollywood writer and director Chris D. Nebe is interviewed exclusively by Xinhua News Agency in Beijing, capital of China, March 20, 2014. [Xinhua photo]
"Diaoyu Islands, The Truth," a documentary tracking the history of the Diaoyu Islands, was released in theaters across the United States and China in March of this year. It is one of the 12 documentaries in the "Mysterious China" series produced by Hollywood writer and director Chris D. Nebe, who spent around one year shooting the documentary at his own expense -- some US$ 500,000.
"I obviously did something right in telling people the truth," said Nebe in an exclusive interview with Xinhua News Agency.
The historical facts uncovered
The seven-part documentary presents historical facts illustrating through photos and videos how the Diaoyu Islands have been part of the Chinese territory since ancient times and how Imperial Japan in fact annexed them in 1895 -- after the first Sino-Japanese War had ended (1894-1895).
To sort out the complicated historical relationship between China and Japan, Nebe expanded his coverage to reach as far back as the Tang Dynasty (618-907), a time during which yet another major war broke out between the two countries -- in 663.
"The most difficult part was the research. I spent nearly eight months collecting the material from archives, the Internet, libraries and other sources," Nebe told a reporter from The China Press.
Apart from the facts arguing for the Diaoyu islands, the documentary also covers key historical facts including the Lugouqiao (Marco Polo Bridge) Incident on July 7, 1937; the Nanjing Massacre, which lasted from December of 1937 to early 1938; as well as Japan's infamous Unit 731 that conducted medical experiments on Chinese prisoners of war. It also analyzed how China was actually forced to fight under Japan's four-phase plan of turning China into its giant base to conquer the world.
Feedback from the public
The film gained positive audience feedback, with the high rating of 9.8/10 achieved on the Internet Movie Database (IMDb). Many people in the United States said that they felt better informed about the history after the documentary had premiered in Los Angeles. Several of them even suggested more young people should watch this film.
"It is rare, and right on time, for the Hollywood Film Company to produce such a documentary about Diaoyu Islands," Deputy Consul General Sun Weide explained when conveying his thoughts on the film. "This is a little known issue among U.S. civilians. The film helps Americans learn more about the truth. "