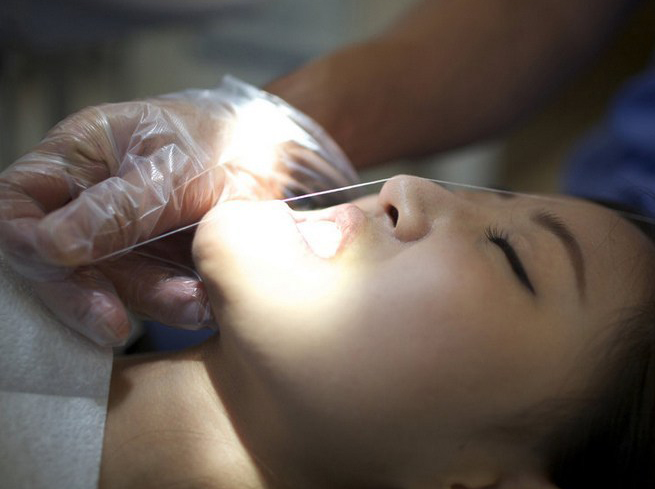 In 2014, a total of 56,000 Chinese went under knife in South Korea. [file photo]
More Chinese cosmetic surgery tourists have only reaped regret in South Korea, as they suffered a 10 percent year-on-year increase in botched plastic surgeries over the past 10 years, according to the Chinese Association of Plastics and Aesthetics.
As many as 200,000 customers have been physically scarred due to shoddy procedures and a lack of regulation in South Korea's booming medical tourism industry, said Zhang Bin, head of the association.
In 2014, a total of 56,000 Chinese went under knife in South Korea.
In a series of random interviews with 207 college students in Beijing, Tianjin and Nanjing, 16 percent of respondents reported wanting to reshape their faces, and 191 of them agreed with the idea that good looks are essential to increased social and career opportunities.
Millions of Chinese men and women have pinned their hopes on South Korea, which is known as a plastic surgery mecca where doctors are said to be highly skilled and technology is purportedly top-notch. The number of Chinese cosmetic surgery tourists to South Korea has increased twentyfold over the past four years.
However, the world's center of plastic surgery is also the center of concerns about the field, as the number of complaints of mishandled operations by Chinese customers alone has reached an annual average of nearly 20,000.
Among 16,000 customer inquiries, 69.5 percent of respondents reported they were not satisfied with the medical services they received, according to statistics released by the Korea Consumer Protection Board.
The low barrier to enter as a cosmetic surgeon and insufficient surgeon qualifications in South Korea are the two major reasons for the high number of botched surgeries suffered by Chinese customers, who generally pay almost two to three times as much as locals due to costly brokerage charges.
"When failures occur, Chinese customers find it hard to safeguard their rights in a foreign country, and the procedures leave irreversible mental and physical scars on the victims," said CAPA head Zhang Bin. Zhang advises customers to sign a pre-surgery statement with domestic brokerages clarifying their mutual rights and duties before heading for South Korea in case they need to ask for compensation in the future.
"Rather than risk being disfigured from botched surgeries in a bid to gain outer beauty, young people should instead change their attitudes to increase their inner beauty, which can stand the test of the time," said Zhang Yan, a researcher at the Shaanxi Academy of Social Science.
South Korea has one of the highest rates of cosmetic surgery in the world: one in 77 South Korean citizens has undergone a facelift at least once. The country hailed as Asia's cultural powerhouse exports massively popular soap operas and pop music videos that often feature cosmetically-enhanced stars.