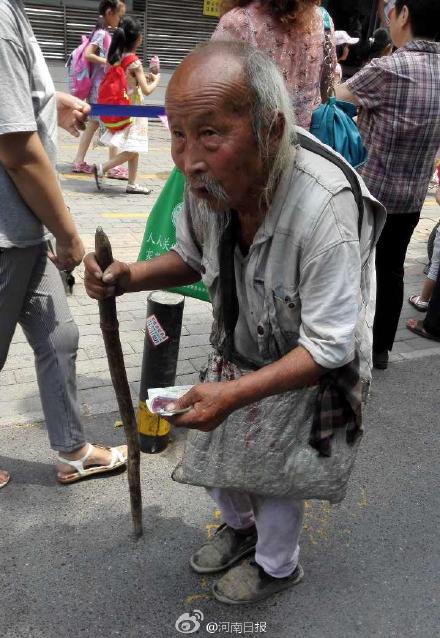 A 103-year-old man begs near a primary school in Zhengzhou, capital of Henan Province on Tuesday. [Photo / Weibo]
A 103-year-old man who used to beg near a primary school in Zhengzhou, Henan Province, has been picked up by the local civil affairs department and will be reunited with his family soon.
The beggar, named Geng Shengmao, who was born on Dec. 30, 1912, is from Minquan County of Shangqiu City in the same province, according to the information on his citizenship ID.
Henan Daily's Tuesday coverage of the man alerted the local government, which confirmed at a press conference held on Wednesday morning that the man has been enjoying a 300 yuan (US$49) monthly government allowance and his five children -- three sons and two daughters -- are all alive.
Geng was living with his third son, a 48-year-old man with physical disabilities, before he took to the street to beg, trying to earn some money to support the family, according to the spokesperson at the press conference.
The confirmation clarified an earlier rumor that the 103-year-old man "did not have a family." Geng's children are living in nearby villages after getting married. His first son is partially paralyzed and his second son is serving a jail sentence, according to the civil affairs department of Minquan.
The man's third son, Geng Jiying, felt sorry for failing to dissuade his father from begging, but added that his physical condition prevented him from working to make a living and the family more or less depended on the money that he got from begging.
"My father has always been good to me. I feel extremely sorry that I just let him beg and live in the street," said Geng Jiying. "When he gets back home, I will definitely not let him do that again."
The old man thanked the local government for bringing him home. He confirmed that he would never beg in the street again. "I wanted to be at home since my children are good to me. I didn't want to beg in the street at all," said the centenarian in apparent excitement.
Local Minquan government departments said they would solve the man's financial difficulties.