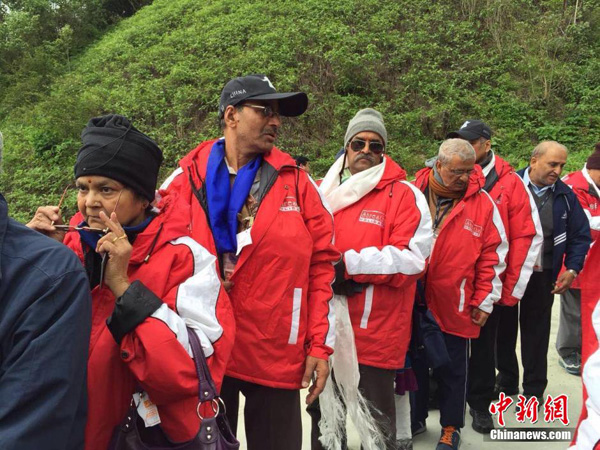 The first group of Indian Buddhist followers entered southwest China's Tibet Autonomous Region through Nathu La Pass at 10 a.m., on June, 22, 2015, starting a 12-day pilgrimage to Mount Kangrinboqe and Mapam Yumco Lake in Tibet's Ngari Prefecture.
China on Monday opened a new route along the Himalayan Nathu La Pass for pilgrims from India traveling to Tibet, to further promote religious exchanges between the two countries.
The first group of 43 Indian nationals entered Tibet Autonomous Region, southwest China, via this pass at 10 a.m., starting a 12-day pilgrimage to the sacred religious sites of Mount Kangrinboqe and Mapam Yumco Lake in Ngari Prefecture, Tibet.
Free jackets, backpacks and blankets were provided to the pilgrims by Chinese authorities upon their arrival.
"This new route is safer, more convenient and comfortable than the former one," said Dong Mingjun, vice chairman of Tibet regional government, at the pass.
It will shorten the pilgrimage time from more than 20 days to about eight or 10 days, he added.
Le Yucheng, the Chinese Ambassador to India, said the pass was the result of a consensus reached by both Chinese and Indian leaders when Chinese President Xi Jinping visited India in September.
It will further promote mutual understanding and communication between the peoples of the two countries, he said. Le has traveled from New Delhi to Nathu La Pass for this occasion.
"We hope to use this opportunity to strengthen strategic mutual trust between China and India, expand cooperation in all fields, promote people-to-people and cultural exchanges, properly handle our divergences, boost common development, and take the bilateral relations of our two countries to a new historical level," Le said.
The Nathu La Pass sits 4,545 meters above sea level and is wedged between Tibet's Yadong County in Xigaze Prefecture, and India's Sikkim State.
Indian nationals have made the pilgrimage to Tibet every year since 1981. China has welcomed almost 80,000 Indian pilgrims in the past decade alone.
The pilgrims traditionally climb over the Qang La Pass, which sits 5,200 meters above sea level on the China-India-Nepal border, to reach their destination. The road is steep and usually covered by snow.