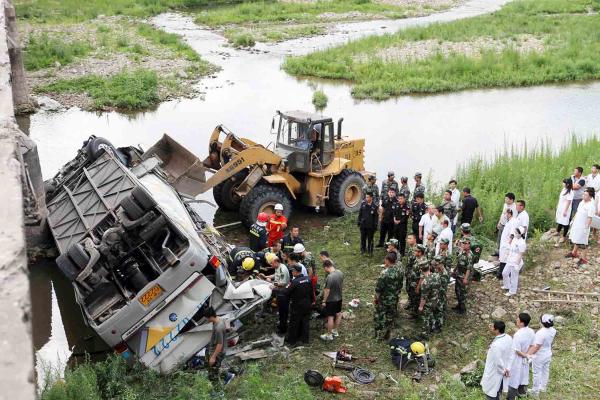 Relief workers and medical staff work aside a bus that fell off a bridge on a road from Yanji to Dandong in Jilin province on Wednesday, July 2, 2015. [Photo: Weibo.com]
The bodies of ten South Koreans killed in a traffic accident in northeastern China are going to be sent back to South Korea later on today.
Speeding and dangerous driving are being blamed for the accident last week in the city of Ji'an.
Ten South Korean tourists were killed on Thursday, along with the Chinese driver, when their tour bus plunged through a guard-rail and into a ravine.
Su Wenbo with Ji'an Police says they've determined the bus was traveling well above the 40-kilometer per hour speed limit when it hit a tight corner.
"We believe the bus was moving at a speed anywhere from 64 to 88 kilometers per hour when the accident happened, which is well above the speed limit. Our preliminary investigation show that the cause of the accident was speeding and improper steering by the driver."
Meanwhile, the police also released the investigation result on the death of a South Korean official who fell off a hotel in Ji'an City early Sunday morning and died.
Choi Doo Yeong was one of the South Korean officials sent to Jilin to deal with the aftermath of the accident.
Guo Yuanqiang, deputy director of Public Security Bureau in Ji'an City, said the investigation has ruled out the possibility of murder and inferred that Choi had committed suicide.
"The surveillance video recording collected at the spot and the testimonies showed there were no other people in the room when Choi Doo-yeong fell off the building at 3 am. The investigation showed that there are many fingerprints of Choi on the open window. No damages unrelated to his fall were found on the body. So the possibility of homicide can be excluded. The investigation result is that Choi Doo-yeong jumped off the building and died."
The reason of his suspected suicide remains unknown.