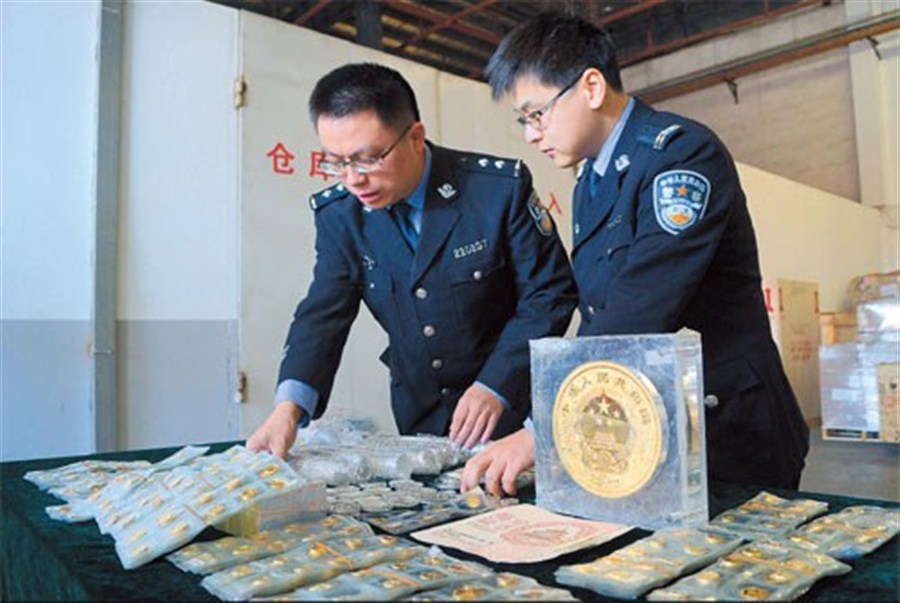 Customs officers look through some of the 2,116 gold and 216 silver commemorative coins they claim were found inside a woman's luggage at Pudong Airport in July. [Photo / Shanghai Daily]
A woman accused of trying to smuggle thousands of gold and silver commemorative coins from Hong Kong into Shanghai has been formally arrested, Shanghai's customs agency announced yesterday.
The suspect, identified only by her surname Chen, was stopped by customs officials at Pudong International Airport on July 6 while trying to pass through the Nothing to Declare channel.
After searching her luggage, officials found 2,116 gold and 216 silver coins, the agency said.
The majority of the coins were "Chinese Pandas," a commemorative edition introduced by the Chinese Mint in 1982, the design of which changes every year.
While the customs agency did not reveal the combined value of the coins — it said only that the bust was China's largest ever — a Shanghai Daily calculation put the total in the millions of US dollars.
Chen's detention came after months of investigation into alleged coin smuggling. Officials opened a case after noticing a sharp increase in the number of gold and silver bullion coins — issued by the People's Bank of China primarily for the overseas market — being traded on the Chinese mainland.
While such commemorative coins are popular on the mainland, they are less so in Hong Kong. This provides an opportunity for smugglers to profit from trading them back across the border.
Customs accused Chen of smuggling "large amounts" of gold and silver bullion coins from Hong Kong into the Chinese mainland over the past two years.
Aside from the items seized, she is also suspected of smuggling a rare 10-kilogram gold bullion coin worth about US$780,000 into the country, the agency said, though it did not elaborate.
An unnamed official said all coins issued for overseas markets must be declared as imported goods if brought into China.
"Individual collectors who carry one or two coins inside their luggage should declare them when they get to the customs desk, but generally we won't impose a tax on them," the person said.